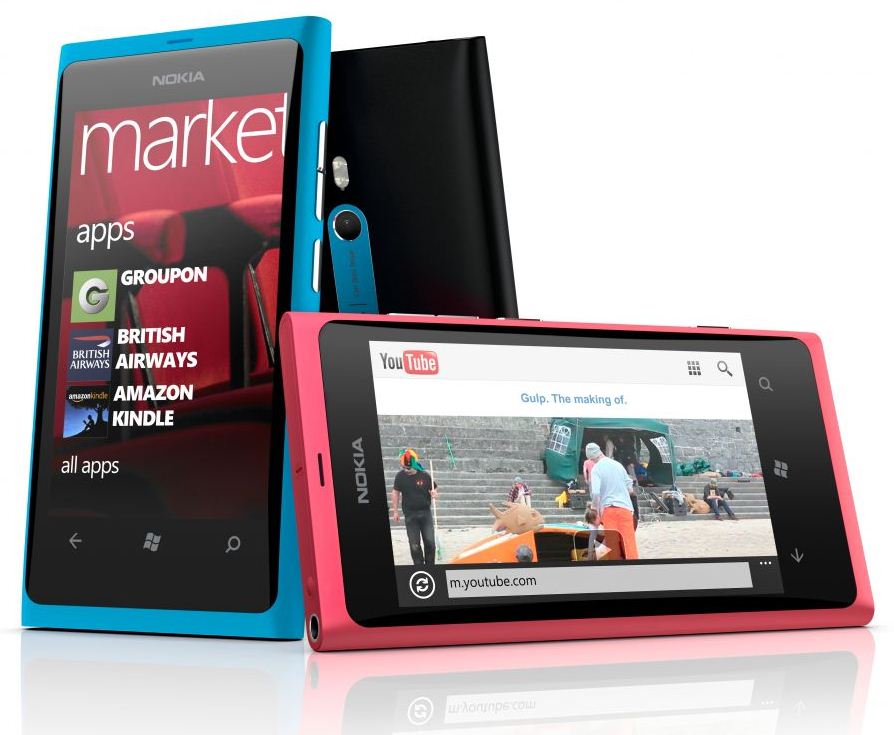 On February 24th 2012, I was kindly invited to the Brisbane Nokia Lumia 800/710 launch because someone at Nokia had seen my Twitter account and this website. I was very keen to go, because I've been following Nokia since February 11th 2011 when Stephen Elop announced that Nokia would be adopting the Windows Phone platform (that I had been keenly watching since February 2010 when it was announced at Mobile World Congress) to replace the aging Symbian OS. This article is just going to detail some of the information that Nokia shared about these two new phones that will be available in Australia in March as well as some of my thoughts about these devices and Nokia in general.
At Nokia World in October 2011, Nokia announced 2 Windows Phone devices, the Nokia Lumia 800 and the Nokia Lumia 710 (as well as some lower end handsets running the older and much simpler S40 operating system that make up the Nokia Asha series, designed for emerging markets). Initially these devices were only made available in Europe and then slowly they were released to select Asian markets. In January at the Consumer Electronics Show, Nokia made announcements in regards to the Lumia range coming to the US (including a new phone specifically for the US called the Nokia Lumia 900). Finally, at the end of January, Nokia FINALLY made an announcement as to when Australia & New Zealand would get the new Nokia Lumia range of phones. This announcement was important because the Nokia Lumia range of phones is seen by many here in Australia as the jumpstart that we need to get Windows Phone to take off in Australia.
Specs & Shots
I won't list all the internal specifications here, because firstly, Windows Phones all share a common set of minimum specifications and secondly: IT DOESN'T MATTER - these devices are extremely fast, fluid and snappy. I hardly hear any people ask about the specs of an iPhone (specs are really just an Android thing, because there's so many of them they need to differentiate somehow), they know it will just work and it's exactly the same with any Windows Phone, especially the Nokia Lumia range. Ok, if you're desperate to see the internal specs, you can see them here (800) and here (710).
What you should worry about is how these devices look and feel, plus what they can do, because they look and feel really good and they will blow your mind with what they can do! The Nokia Lumia 800 is made out of a single piece of coloured, high grade, polycarbonate plastic, which makes the phone feel really solid and yet very light. The screen is AMOLED and is 3.7 inches in size (9.3cm for us Australians who've moved on from imperial measurement - hurry up USA!), but it features this special ClearBlack technology, which means that the screen is really bright, but yet the blacks are very black and it is a bit easier to see in bright sunlight compared to other phones. I put my HTC Mozart Windows Phone up beside the Nokia Lumia 800 and you could tell the difference. The other thing it features is Corning Gorilla glass, which I'll mention later. The Nokia Lumia 800 also apparently has a great camera (I didn't test this, but I've heard good things about it). It features an 8 Megapixel camera with Carl Zeiss optics which are well known in the industry to take great photos. It can also take HD video which is nice. Finally the Nokia Lumia 800 will be available in 4 colours: Black, White, Cyan (Blue) and Magenta (Pink).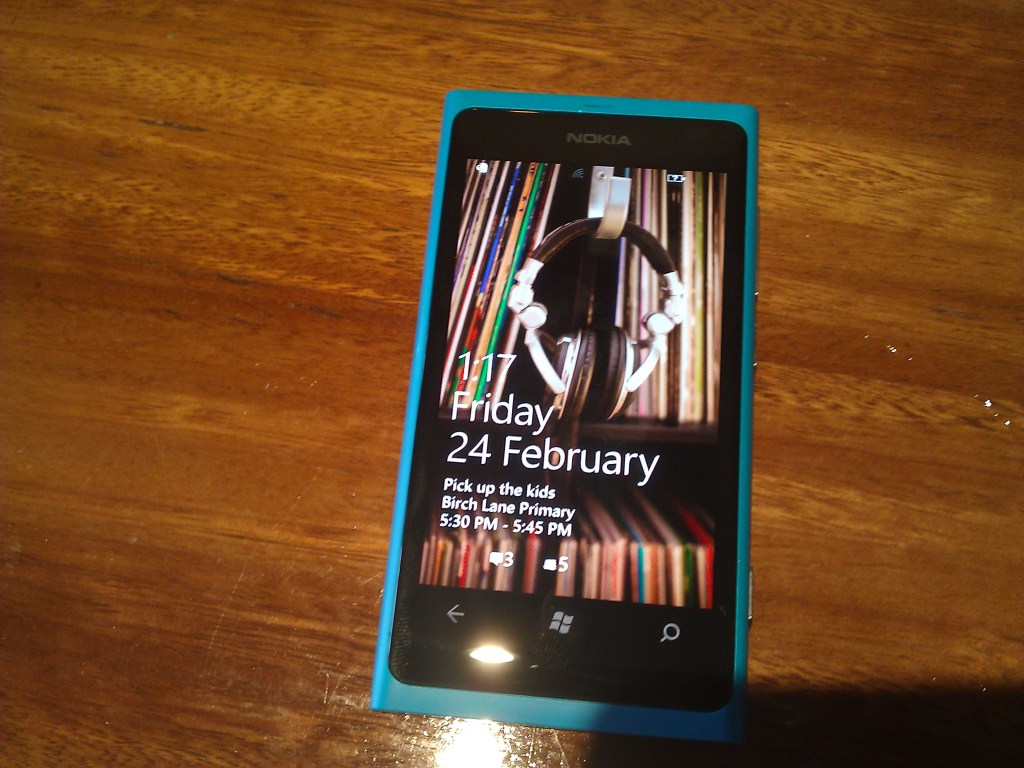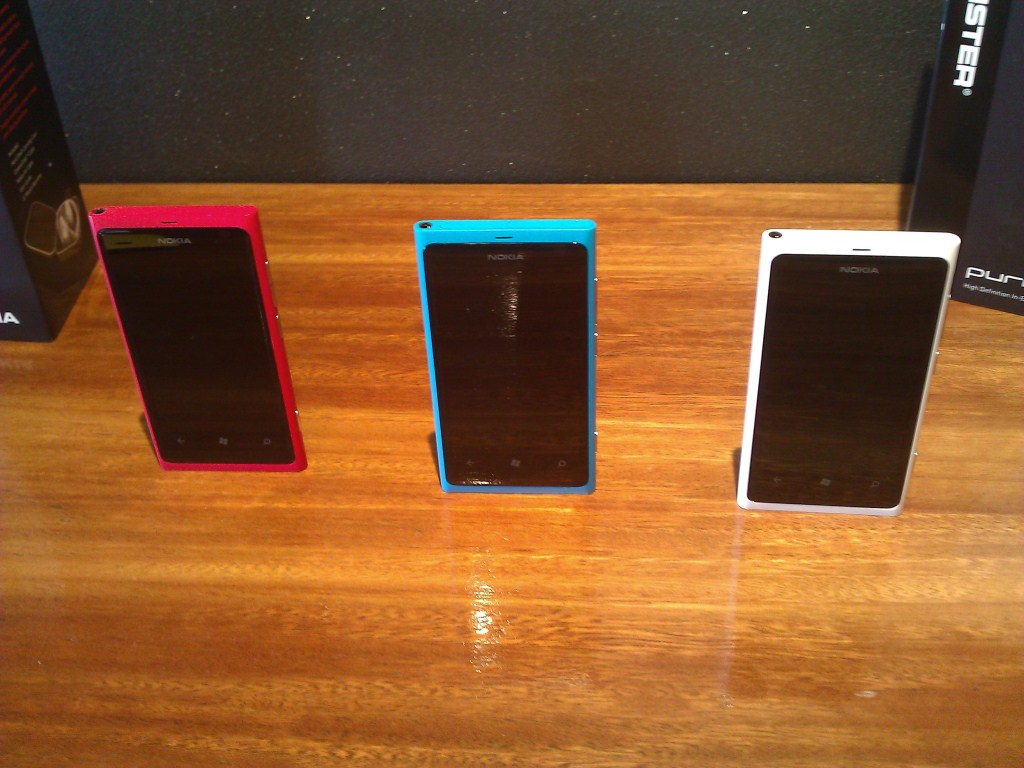 The Nokia Lumia 710 is a slightly lower end phone than the Lumia 800 (but it's priced cheaper too, nearly 50% cheaper), but that doesn't mean it still isn't a great phone. The screen is still 3.7 inches (9.3cm) in size and it still has the Corning Gorilla glass and ClearBlack technology but it is just a regular LCD screen and not an AMOLED screen. The body of the phone isn't a single piece of Polycarbonate plastic, instead it's just a regular glossy plastic, BUT it does have a removable backing which comes in multiple colours, so you can buy additional backings and change the colour of the back of your phone whenever you want. The body of the phone will just be available in Black and White for now, but the plastic backings will be available in Black, Cyan (Blue), Magenta (Pink), Yellow & White. The camera on the Lumia 710 is only 5 Megapixels, but the photos from it should still be fine (the iPhone 4 has a 5 Megapixel camera and everyone seems to be happy with the photos from that phone).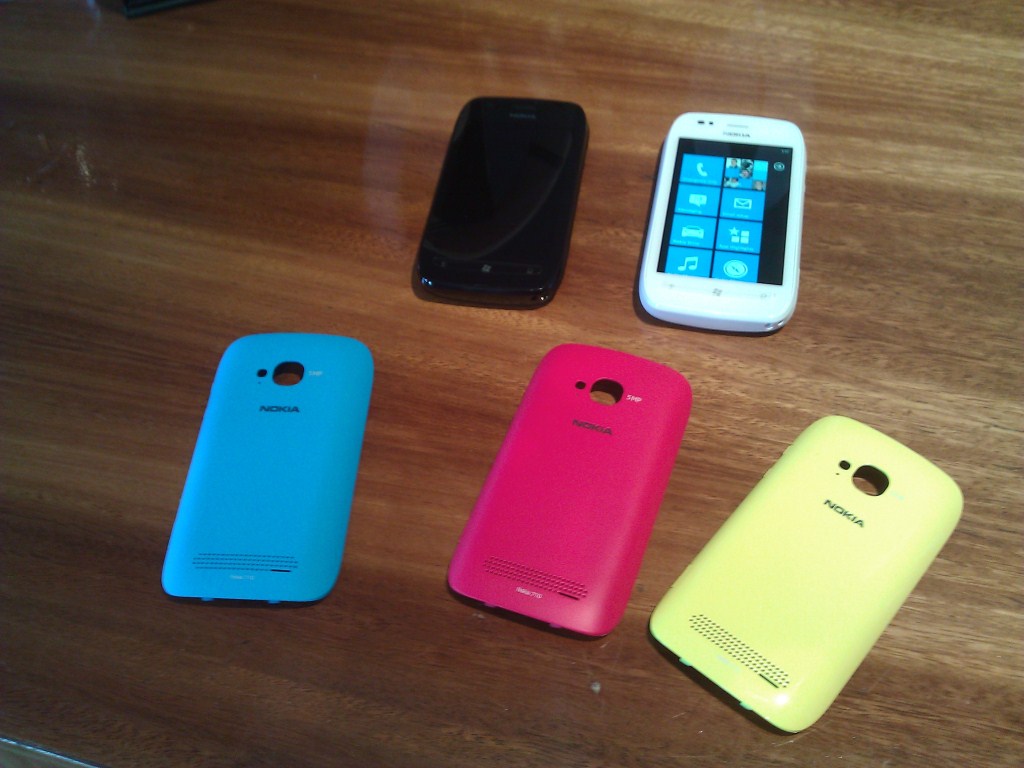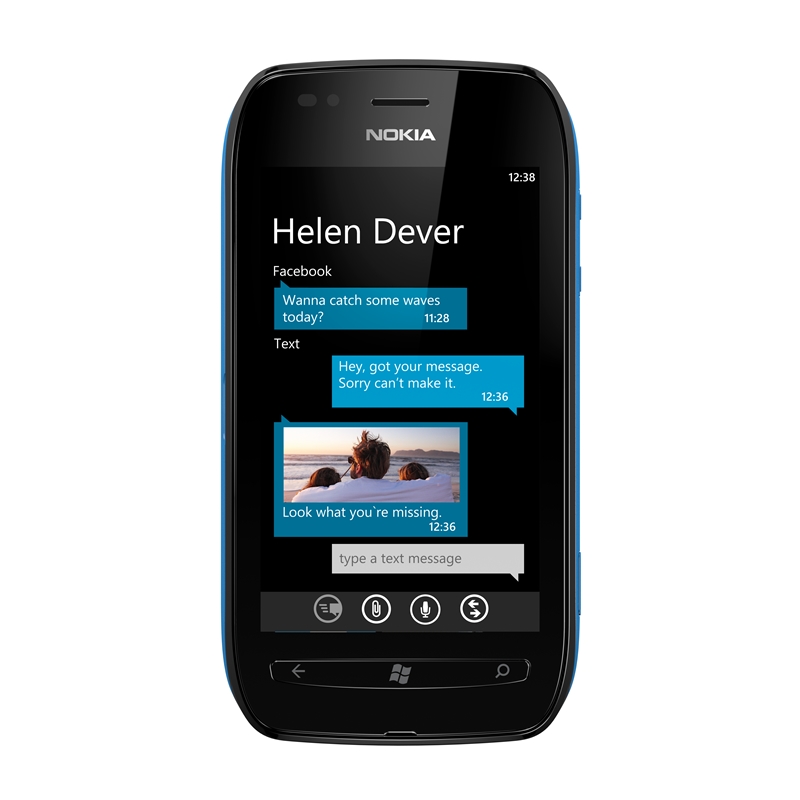 Nokia's Bundled Apps
Nokia isn't the only Windows Phone manufacturer out there (and they certainly weren't one of the first, only jumping on board with 2nd Generation devices, unlike HTC & Samsung who released devices in October 2010), so they need to differentiate themselves from other Windows Phone manufacturers. Nokia have chosen to do this in 2 ways. Firstly, Nokia is the first Windows Phone manufacturer to really experiment with the hardware in areas such as colour and build materials (other than Fujitsu's IS12T, which is only available in Japan), because most of the first generation Windows Phones were all black and made either out of metal or glossy plastic. The other way to differentiate on Windows Phone devices is to provide unique applications that are only available to customers using a specific manufacturer's devices. So Nokia have decided to take 2 areas that they have traditionally been strong in and write Nokia exclusive Windows Phone apps that will differentiate a Nokia Windows Phone from any other Windows Phone available. The 3 apps available are Nokia Maps, Nokia Drive and Nokia Music.
All Windows Phone devices include Bing Maps for free on the device. Bing Maps provides a fairly decent mapping solution, navigation and directions to Windows Phone customers. There are two areas where Bing Maps fall short though. Firstly, Bing Maps are REALLY Good in the United States, but once you use it in any other country, the level of detail (in terms of points of interest, business names etc.) drops significantly. The other area where it lacks is that outside the US, there is no VOICE GUIDED turn by turn navigation service available, they've decided to make this a US only feature for now. You can buy 3rd party navigation software, but Nokia has decided to capitalise on this shortcoming by offering the excellent Nokia Maps & Nokia Drive for free to all people who buy a Nokia Lumia device. Nokia Maps is essentially Nokia's version of Bing Maps, but it has a lot more detail for places outside the US (including Australia). This app is designed to give you walking directions and it seemed to have a very good grasp on locations in the Brisbane CBD. I would like to try this out in my suburb, but I have high expectations. The Nokia Drive app fills in the voice guided navigation gap that Bing Maps leaves if you're not in the US. This app essentially replaces the need of buying a GPS. The best part about these mapping apps that Nokia provides, is that you can download the maps for any country in the world that Nokia has mapped (and they've mapped HEAPS) and download them to your phone for offline use (which is not something you can do with Bing Maps) when you're travelling.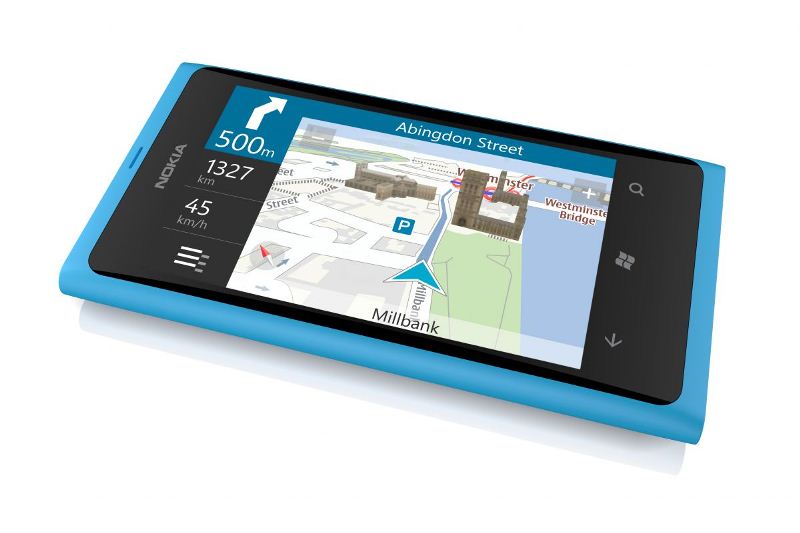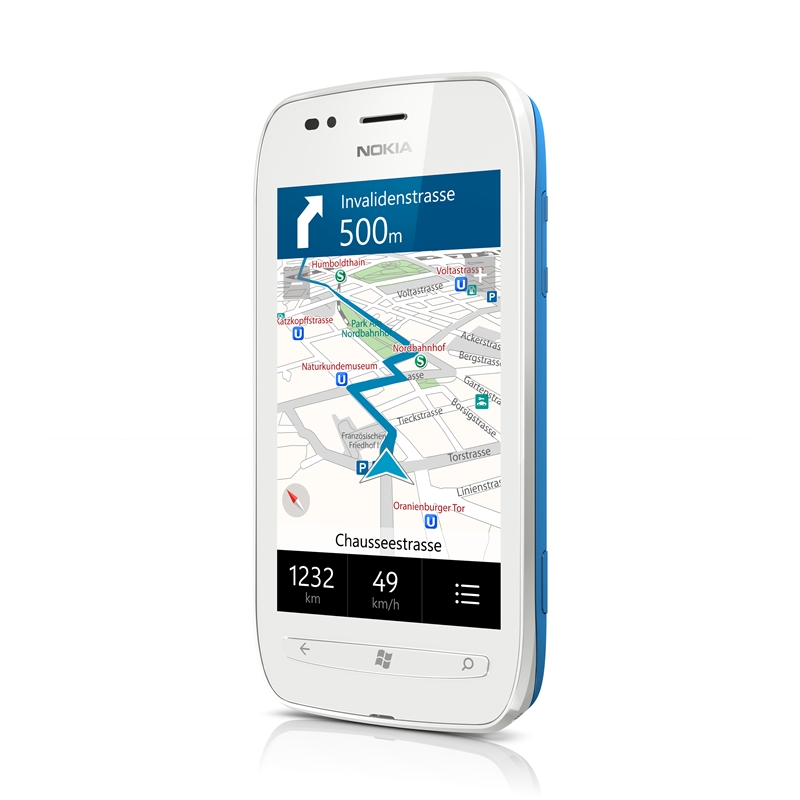 The other app that Nokia provides for all Lumia devices is the Nokia Music app. Now, being a Zune Pass subscriber (built into all Windows Phones, but only available in the US, UK, Canada, France, Spain, Italy & Australia) I was initially sceptical about the need for this app. The thing is though, if you're not a massive music fan like myself and just want to listen to music to pass the time now and then, then the Nokia Music app is perfect, because it's FREE. You can pick from heaps of different mixes (which are prechosen playlists of song by Nokia) in various different genres and listen through them. You don't have to pick music from your computer and sync it to your phone to listen to it or pay for a Zune Pass, you can just start listening to some music in a couple of taps (about as easy as flicking the radio on in the car for some tunes when you're driving along). You can also download a mix to your phone, so that you can listen to it offline (the scenario given was that this would be great for a flight from Brisbane to Sydney or Melbourne etc.). The Nokia Music app also gives you access to the Nokia MP3 store to buy music if you want to do that (very useful for all those countries that don't have access to the Zune Music Marketplace or Zune Pass). The one other feature that is in the Nokia Music app is the Gig Finder. The Gig Finder was demoed and it successfully recommended the Roxette concert that was playing at the Brisbane Entertainment Centre and also offered a link to the place selling tickets! This app knows what is going on locally which is great to see!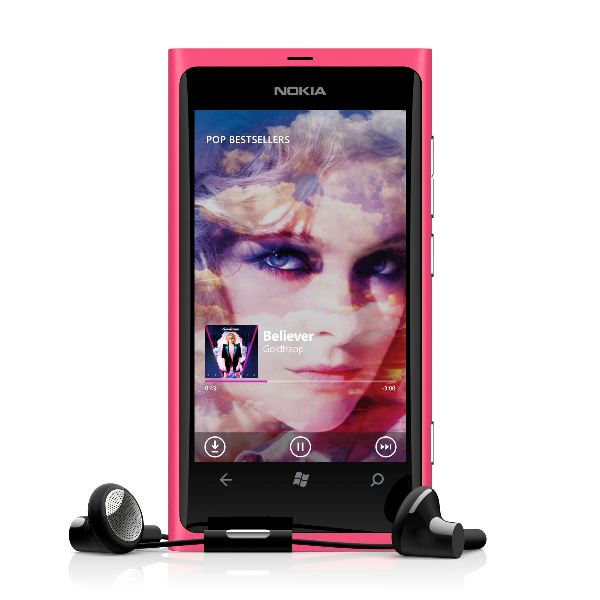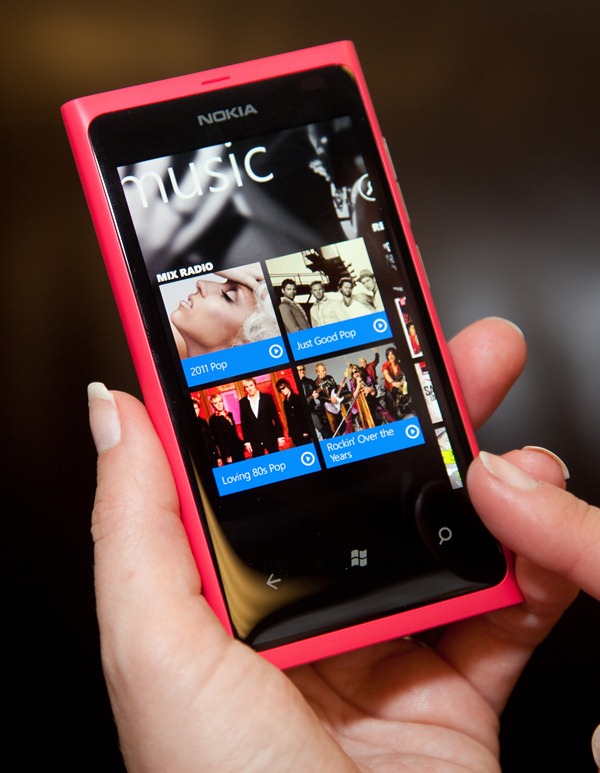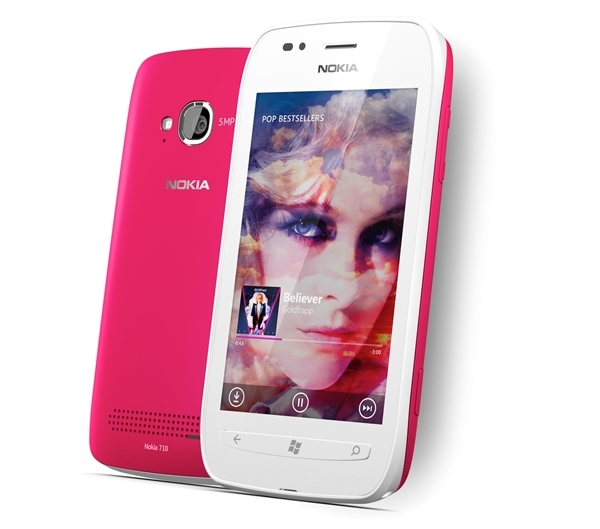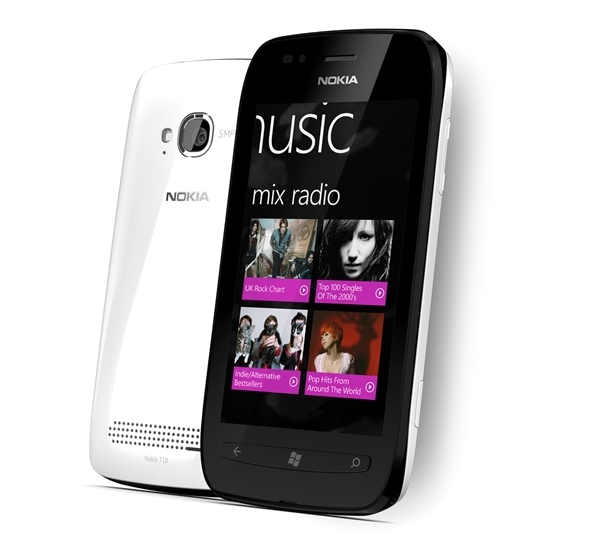 My Thoughts
So finally, I just want to add a couple of things that I took away from this launch event. Firstly, it appears that these Nokia Lumia devices have been designed to both look beautiful but also be fairly indestructible! Personally, I'm a very practical person and I always take practicality over design (hence why I do not like the fashion industry and the things they come up with, like High Heel Shoes). There is the well-known story of how Steve Jobs deliberately ignored his engineers over the iPhone 4's antenna design, because he liked the design. There are also stories of how the iPhone 4's backing can get scratched by grit that builds up between the case and the glass back of the phone, which sometimes causes scratches that can become large enough to crack the glass panel on the back of the phone. Nokia have managed to create beautiful looking devices (especially the Lumia 800) that are also practical. The polycarbonate plastic used on the Lumia 800 comes in several different colours, but the unique things is that the colour is actually infused in the plastic, it's not just painted on as an afterthought. So if for some reason the back of the phone was to get scratched, you wouldn't really be able to notice because there wouldn't be an ugly grey line that would appear. Secondly, the Corning Gorilla glass means that the screen of the device should be quite strong and resistant to scratches. I came across this video on YouTube of a guy being quite harsh to his Lumia 800's screen and it withstood all he threw at it (even a Corkscrew), so I'm convinced this phone is practically indestructible (although I don't recommend deliberately being harsh to it, since it's a nice device, you want to take care of it). Basically, these Lumia Phones have been well built and shouldn't fall apart on you (Nokia is keeping up their tradition of building good stuff!).
Secondly, I got the feeling that Nokia are really going to push these devices into the market as forcefully as they can. Currently, the Windows Phone marketing in Australia has been, let's say woeful up until now, which is very strange, because Australia has an extremely high uptake of smartphones. Part of the reason I guess is that all the other Windows Phone manufacturers in Australia also make Android phones and so they were more interested in promoting those than the often superior Windows Phone models. Nokia isn't an Android manufacturer though and because they've gone all in with Windows Phone, they want to push the platform and these new devices as strongly as possible, so expect to be bombarded with advertisements promoting the Lumia Brand (and seriously, BRING IT ON!).
The other side effect of the lack of attention the Windows Phone platform in Australia has been that local companies haven't been developing apps for the Windows Phone platform. At the event, Nokia announced that they will be helping companies bring local apps to the Australian marketplace (Pizza Hut was the one mentioned, which technically is an American company, but they have shops here). I'm all for this, I hope they get other companies such as Woolworths, Coles, Dominos, the major Banks, the ABC, Event Cinemas etc. to build Windows Phone apps too. Windows Phone is often criticised for having only 60,000 apps while iOS and Android have over 500,000 apps, but what is often forgotten is that it's not the quantity of apps that matter, but the quality. If Windows Phone only has 60,000 apps, but they're quality apps from a mix of both global services (Facebook, Skype, Twitter, Instagram etc.) and local companies (Woolworths, Banks etc.), then it doesn't matter if iOS & Android have 440,000 more apps (with probably 1500 fart apps), because all the platforms will be able to do the same things that people ACTUALLY care about (who installs more than between 50-150 apps on their phones anyway, you certainly don't download 500,000 apps). Windows Phone does need to catch up on these big name apps and with Nokia & Microsoft's push to do this, I think they'll have most of the big name apps on Windows Phone by the end of this year!
Finally, let's not forget, these Nokia Lumia devices run the fantastic Windows Phone operating system. While Nokia has significantly improved on this base platform by adding great hardware and fantastic services, the base they are building on top of is already pretty damm good! Windows Phone devices all integrate with popular services used by millions of people a year including Hotmail, Facebook, Twitter, Xbox Live, Bing, SkyDrive & Office 365 (as well as fantastic but lesser known services such as Zune). Within the next 12 months, Microsoft will be undertaking a massive transition of unifying their platforms, so if you buy a Windows 8 device when they are released, your Nokia Lumia device running the Windows Phone OS will integrate seamlessly with that. You also don't need to worry about things such as malware or app incompatibility, because the Windows Phone OS protects you from malware (like iOS does) and all current Windows Phones can run all the applications available in the Marketplace without any trouble at all.
Concluding Words
The Nokia Lumia 710 & 800 are the best Windows Phones on the market at the moment (and probably will be for quite a while) and so they're highly recommended. You'll be able to pick up a Lumia 800 from Telstra, Optus & Vodafone starting in March and a Lumia 710 from Optus or Virgin Mobile, also starting in March. I thank Nokia for inviting me to their launch event (and hope to come to any future events they may host regarding the Lumia range). I also recommend that you check out Windows Phone Down Under (www.wpdownunder.com), which is run by my mate Sheeds, as he is covering everything Windows Phone (including the Nokia Lumia devices) and will no doubt soon have a Lumia 800 review that goes into a lot more depth than this one (as well as regular Windows Phone news that I don't offer here).
Finally, I'd like to mention that I will be receiving a Nokia Lumia 800 next month thanks to the competition that Microsoft & Nokia ran in January/February (completely unrelated to the launch event I was invited to, this isn't a prize for comment article, I don't do those). Australian developers who developed 3 apps for the Windows Phone Marketplace would win a Lumia 710 and developers who developed 4 apps would win a Lumia 800 (limited to the first 50 developers). I developed 4 apps and successfully won a Lumia 800 and so I'll be able to spend some quality time with the device over the next year or two hopefully (although I won't be writing another review when I receive it, this is it, I've got Windows 8 stuff to write about :P).