At 2am on Wednesday September 14th Australian Eastern Standard Time (9am, Tuesday September 13th United States Pacific Daylight Saving Time) Stephen Sinofsky stepped onto the stage to deliver the opening keynote at the BUILD conference, held in Anaheim, California. This keynote is probably the most important keynote that Microsoft has given in the 36 years of it's existence and was entirely devoted to revealing details of the next version of Windows, currently codenamed 'Windows 8'. Microsoft's CEO Steve Ballmer has described the next version of Windows as 'Microsoft's riskiest product bet' and with what was revealed during that keynote, his comments now make complete sense. Windows 8 is what Microsoft describes as "a re-imagining of Windows" and will include a major redesign of the user interface, developer platform, chipset support and tightly integrated cloud support. This article aims to detail some of the fundamental concepts that Microsoft is pushing in Windows 8 and explain why I think Microsoft's risky bet on the next version of Windows will pay off.
Introduction
In 1985, when Microsoft released the first version of Windows into the market, it was nothing more than a graphical shell (which could be used with a keyboard and mouse) that was designed to run on top of MS-DOS, which was a text based operating system (that was designed to accept user input from just a keyboard). Throughout the 10 years between 1985 and 1995 Windows slowly evolved and grew and became more popular with first time computer users, although it really still really acted like a shell that sat on top of DOS. In 1995, Microsoft revolutionised the PC world by releasing Windows 95, an operating system that, while it technically sat on top of MS-DOS, it acted like a proper operating system, rather than simply an MS-DOS shell. Windows 95 was also the version of Windows which introduced the GUI that we find in Windows today, including the Desktop, Taskbar and the Start Menu (which was Windows 95's key selling point, they even had Start Me Up as the theme song in advertising). Since Windows 95, many significantly changes have been made to Windows, including Windows 98 which added features to Windows for browsing the internet, Windows XP which combined Windows Me's consumer features with Windows 2000's robust kernel & Windows Vista which tried to modernise the internal workings of Windows for the 21st century (which it was ultimately successful at doing although it did not do it smoothly, which is why Windows 7 had to come in and fix the rough edges of Vista, while continuing what Vista had started). Throughout these last 16 years though, even though the core internals of Windows may have been modified, features have been added and the UI has evolved through several generations, Windows still fundamentally works exactly the same way it did in 1995, you use a combination of the Desktop, Start Menu & Taskbar to navigate around Windows, using a mouse and keyboard. The next version of Windows plans to change two major things about Windows: the way it operates (everything from the UI, to the internal workings) and the devices it can be used on (which means that it also needs to change to accommodate new types of input devices).
The Changing Landscapes Of Devices (And Why People Like & Dislike What We Have Currently)
In the last 5 years or so, there has been a HUGE change in the technology landscape, mainly in terms of what devices regular people are starting to use. The smartphone market is a quickly growing one (with Australia now second in the world for smartphone penetration, only behind Singapore), as is the tablet market. Both markets are currently lead by Apple's iPhone & iPad respectively and both of those devices run the iOS operating system.
Focusing on just the tablet market now, what is it about Apple's iOS operating system (and therefore the iPad) that regular people like? There is a number of things which consumers like about iOS and they include, fast boot times and instant standby and resume (and I mean absolutely instant), a simple interface which is designed entirely around touch, a stable and fairly consistent experience (apps all work in similar and predictable ways and the device tends not to freeze while throwing around weird error messages), a safe place to buy apps that they know will work properly on the device, a device which doesn't get slower over time due to apps installing junk all over the place and a device which is generally fun to use. Apart from the operating system, the tablet hardware is also light, portable and has a long battery life (and is nearly always connected via 3G or Wifi).
If these tablet devices are SO wonderful though, why do people still need laptops and desktop PCs? Well, the iPad can only run one app on the screen at a time, which means you have to flick back and forward between apps if you need information from two apps at the same time (e.g a notes application and the web browser), your device can ONLY run the apps which are available in the app store (unless you jailbreak it, which is not recommended), you can't plug devices like printers, scanners, USB drives, TV tuner dongles in and use them, the apps can't communicate and share information with each other (they have no knowledge of each other even existing) and finally the device is really only made for fingers and apps that work with fingers, so a more complex program designed for a keyboard and mouse (such as Microsoft Office Word, Microsoft Office Excel or Adobe Photoshop) cannot be used on your device. It is this final reason that people generally continue to use a desktop or laptop PC (with most people running Windows, some running OS X on a Mac) for some tasks, EVEN if they own a tablet.
Microsoft's plan is to create an operating system which runs on everything from a 7 inch tablet to a 70 inch plasma screen (and of course everything in between) and take input from touch screens, keyboards, mice, voice and even the Kinect. This sounds like an impossible task, but I actually believe that Microsoft has achieved this with the Metro style of design and some of the smart features, which attempt to take all the things people like about how tablet operating systems (like iOS) work and combine them with the things that people still need a PC for, so they can have ONE very flexible device. So the rest of this article will concentrate on some of the key themes and features that they're using to achieve this 'one device with one OS to rule them all' vision!
The Metro UI, Start Screen & Classic Desktop
The first thing you'll notice when you first login to a Windows is that the desktop no longer appears by default! Instead a screen with a grid of rectangular blocks appears. These are called tiles, they're like icons, but better! Tiles allow you to launch an app simply by clicking on it BUT you can find out information about the app without even launching it. These tiles update with information as you use your computer. The stocks app displays the latest information about companies you follow, the calendar app will show you your latest appointment, the weather app shows the latest temperature and forecast details, all without launching the app, just like how Windows Phone 7 devices work! The interface works well with a keyboard (you can use your arrow keys to navigate around), a mouse (you can scroll and click), your finger (you can tap and drag), your voice (you can read the name of the time out) and with the Kinect (they're big enough that you can use your hand to wave over one). You can read more about the principles behind the Metro UI & my thoughts about how they apply to Windows 8 in my previous article 'Windows 8 & Metro, It Just Clicks (Or Taps As The Case May Be)'. Not all of your apps HAVE to be on this screen though, just the ones you find important. To access any other app on the system, simply start typing and you can search through them (more on Search soon, it's just gotten super powerful).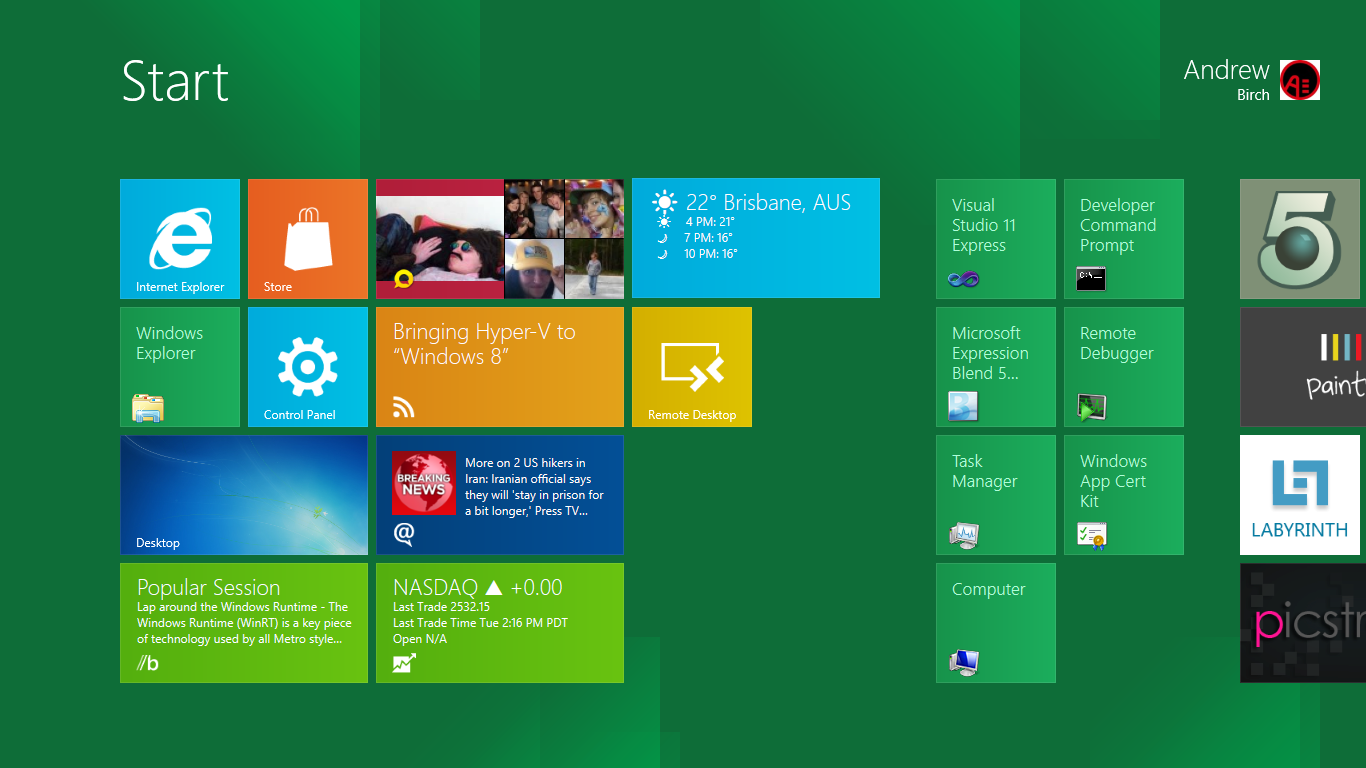 The New Windows 8 Start Screen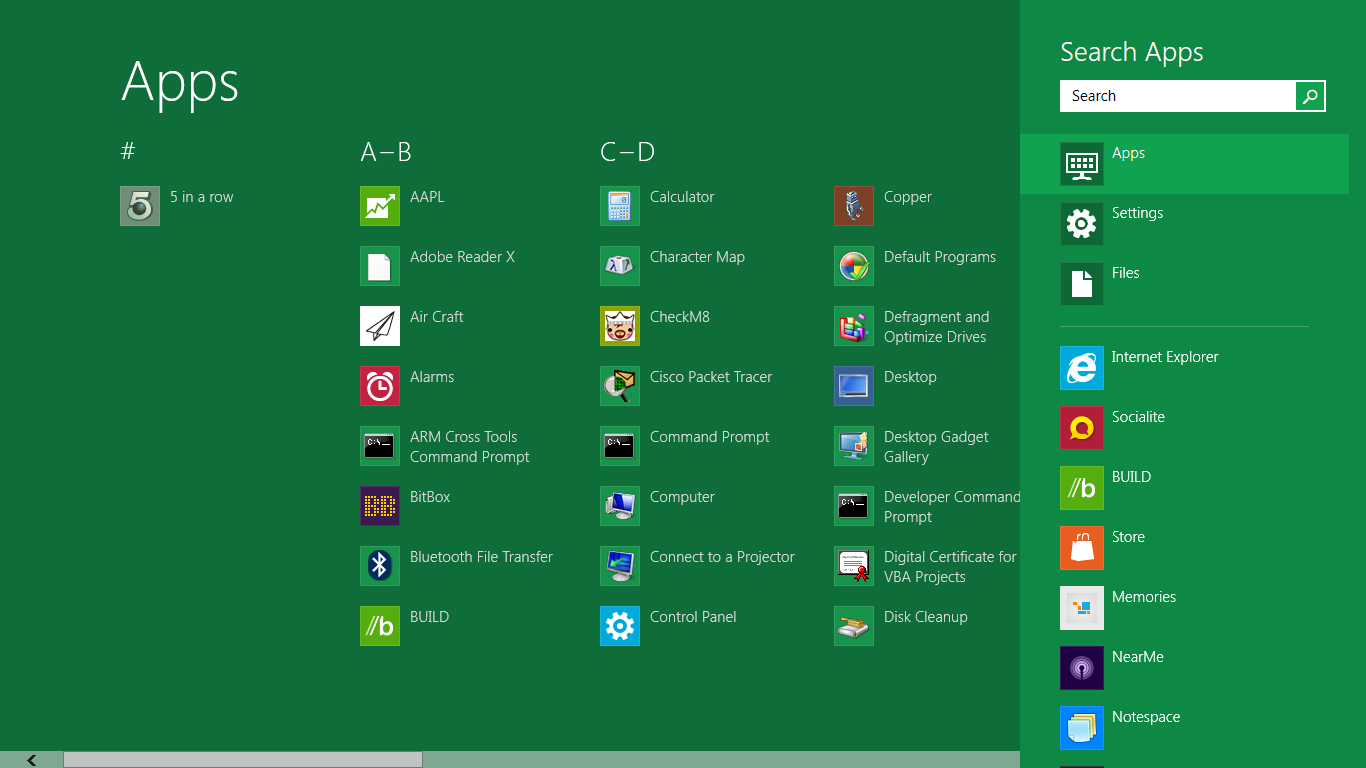 Searching Though Your Apps In Windows 8
When you launch one of these apps, you'll notice that they're full screen. Only one app appears on screen at a time (with an exception, I'll mention in a minute). These apps look beautiful and they're very touch friendly, but they can also be used by all of the previously mentioned inputs). To bring up the toolbar of all the tools in the app (called an App Bar in Windows 8), you either swipe in from the top or bottom of the screen with your finger, or right click a blank area of the screen with your mouse. To return to the Start screen and access the Charms (more on these in a sec too), you swipe in from the right side of your screen with your finger and they'll appear OR if you're using a mouse, you hover your mouse in the bottom left corner where the Start button normally would be and the Start Button & Charms will appear (pressing the Windows Key will take you to the Start Screen). To switch between apps, you can keep returning to the Start Screen and choosing them (they'll resume instantly as Windows suspends them when you switch away, it doesn't quit them) or you can simply swipe in from the left side of the screen with your finger until you find the app you want. With a mouse, if you hover your mouse along the left side of the screen, a tiny thumbnail will appear. Clicking or dragging that into the centre of the screen will also switch to that app.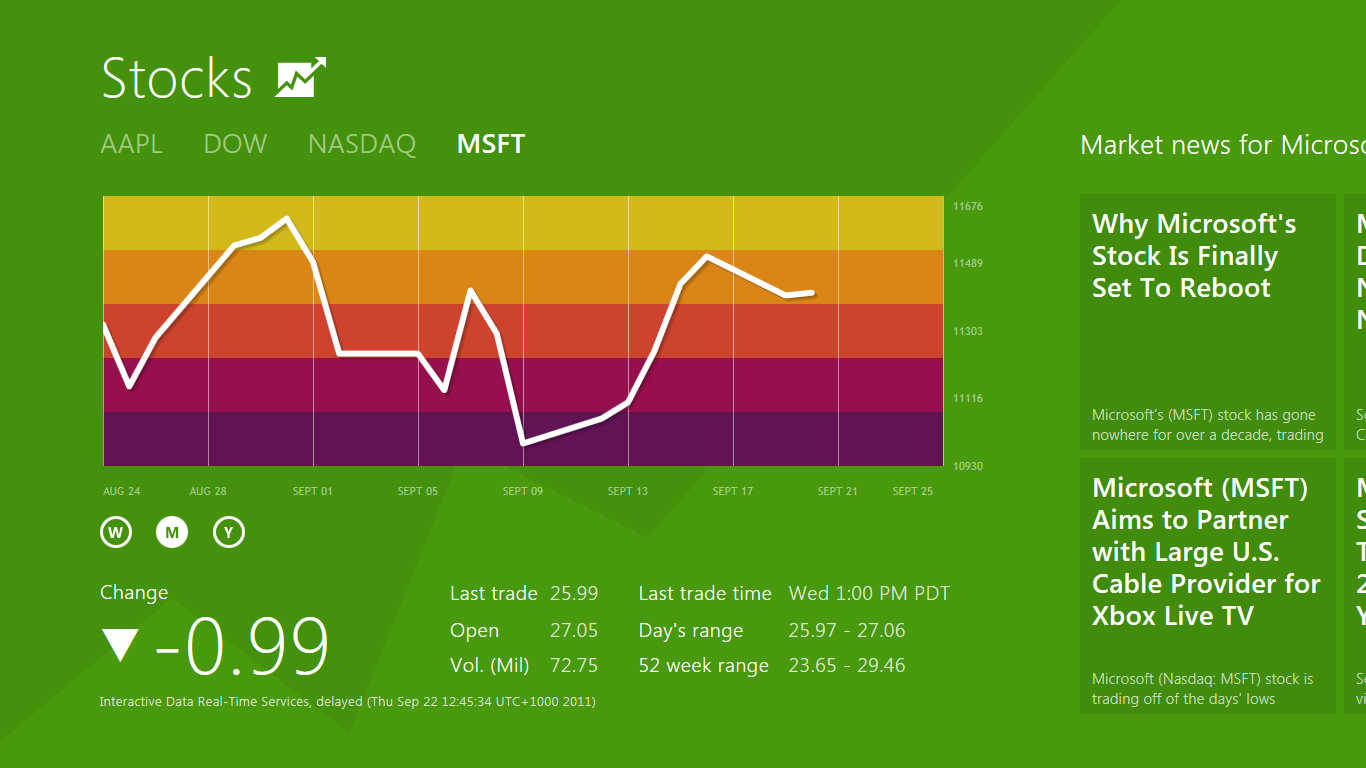 Metro Stocks App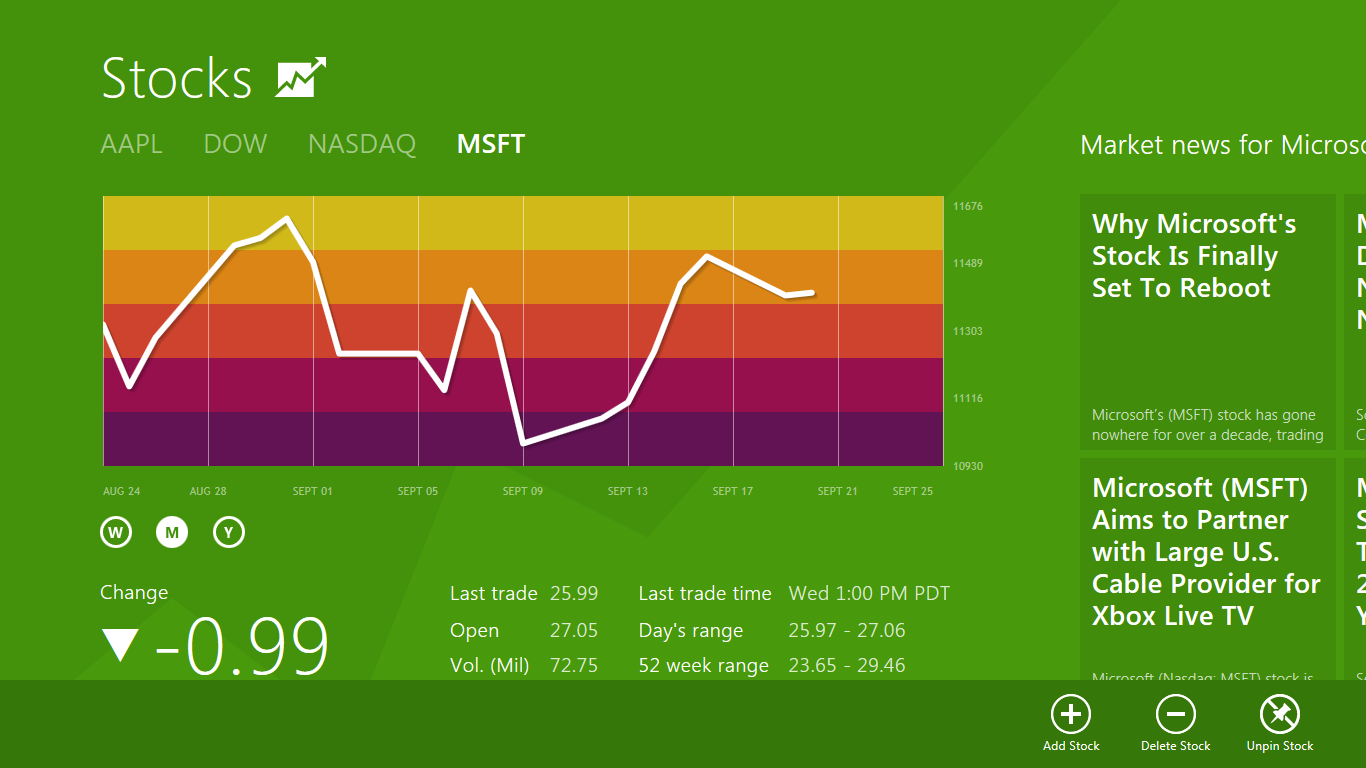 Metro Stocks App With The App Bar Shown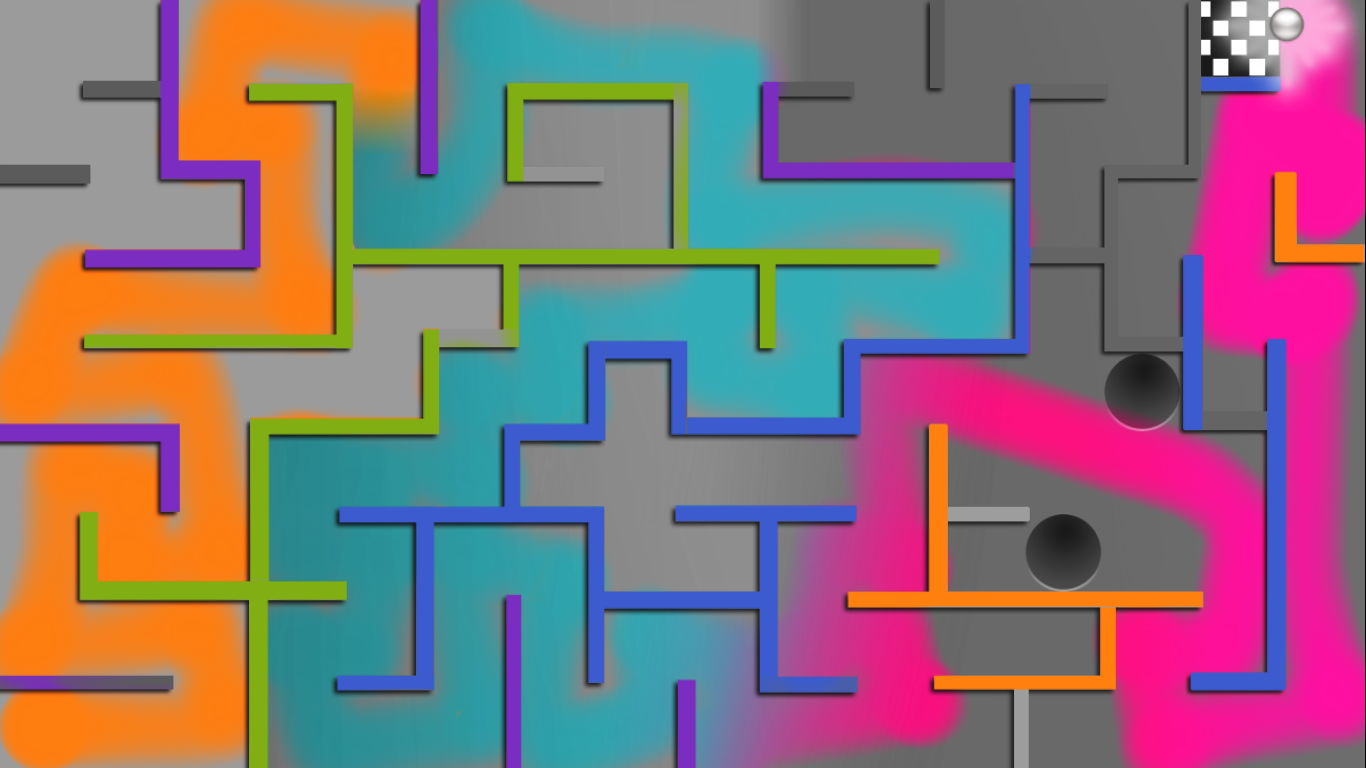 A Game Of Labyrinth Written In For The Metro UI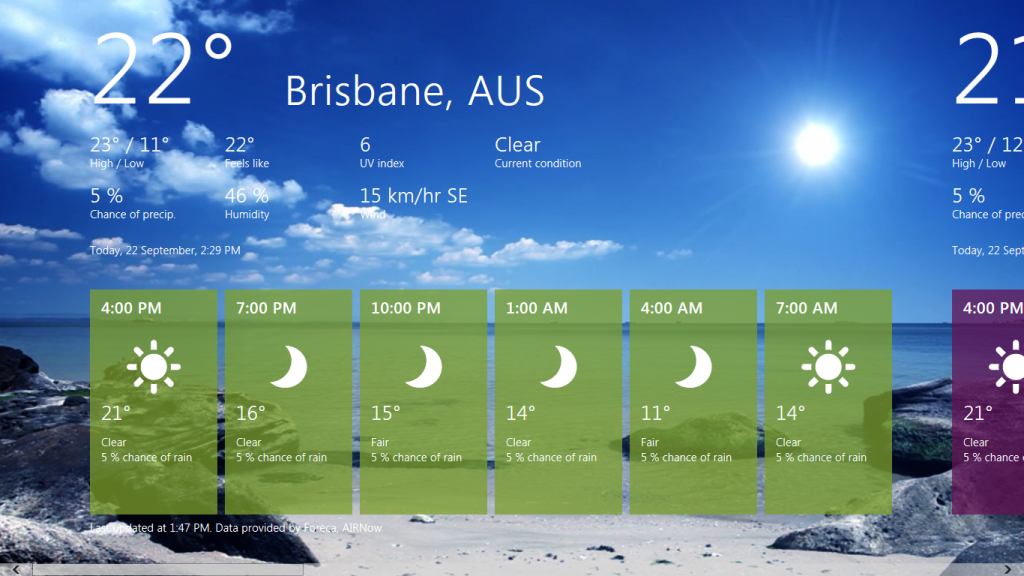 Metro Weather App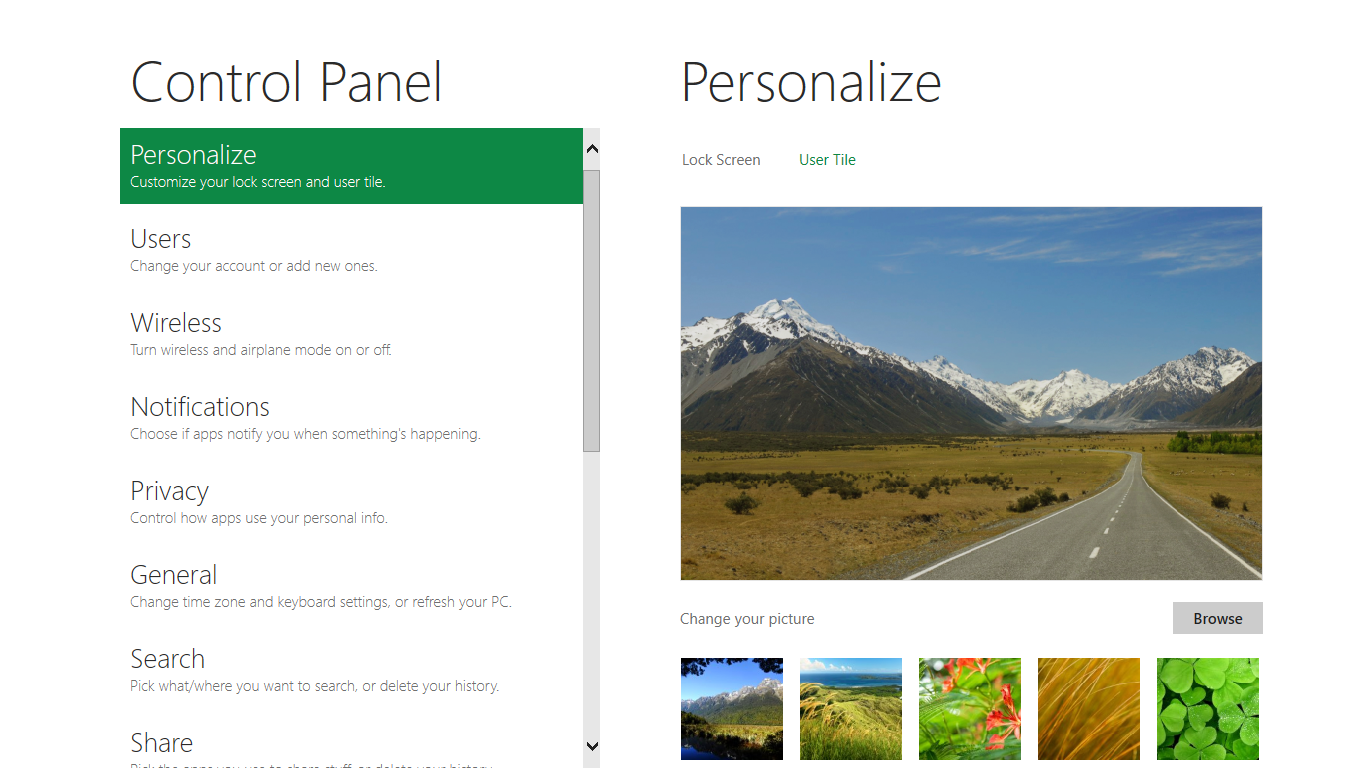 New Metro Touch Friendly Control Panel!
Full screen apps are something iPad users are used to, but the disadvantage is that you cannot look at two things at the same time. Windows 8 allows Multitasking of two apps at the same time! To put a second app onto the screen, drag the app towards the middle of the screen, pause for a sec, then drag it to either edge of the screen until Windows appears to make room for it, then drop it into spot. You can have two apps on screen at once, one taking up 75% of the screen and one taking up 25% of the screen (docked). You can choose which app gets what percentage by simply dragging the middle bar to the left or right as appropriate. You can also drag other apps you have have open into one of the two available slots to replace the app currently in that spot too. Developers building Metro apps will be asked to allow for their apps to work correctly in both screen sizes and so therefore you shouldn't have too many issues with the smaller app being squished by the docked mode. You can even drag the Windows desktop in (it acts like an app), so that you can use a mix of Metro and classic apps together. It solves the problem of a windowed operating system confusing users, but also solves most of the issues with the iPad's one program at a time policy causing limitations to the work you can do.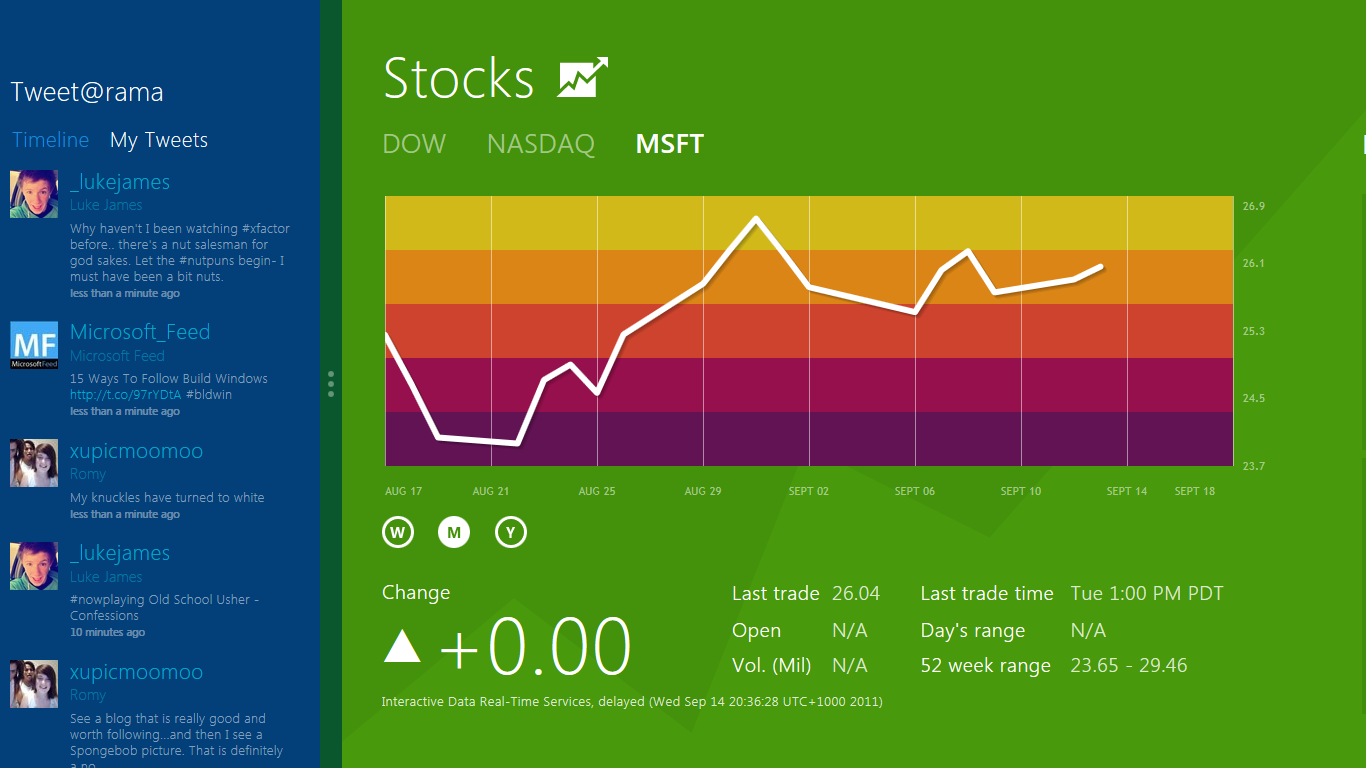 Metro Stocks App With The Tweet@Rama App Pinned On The Left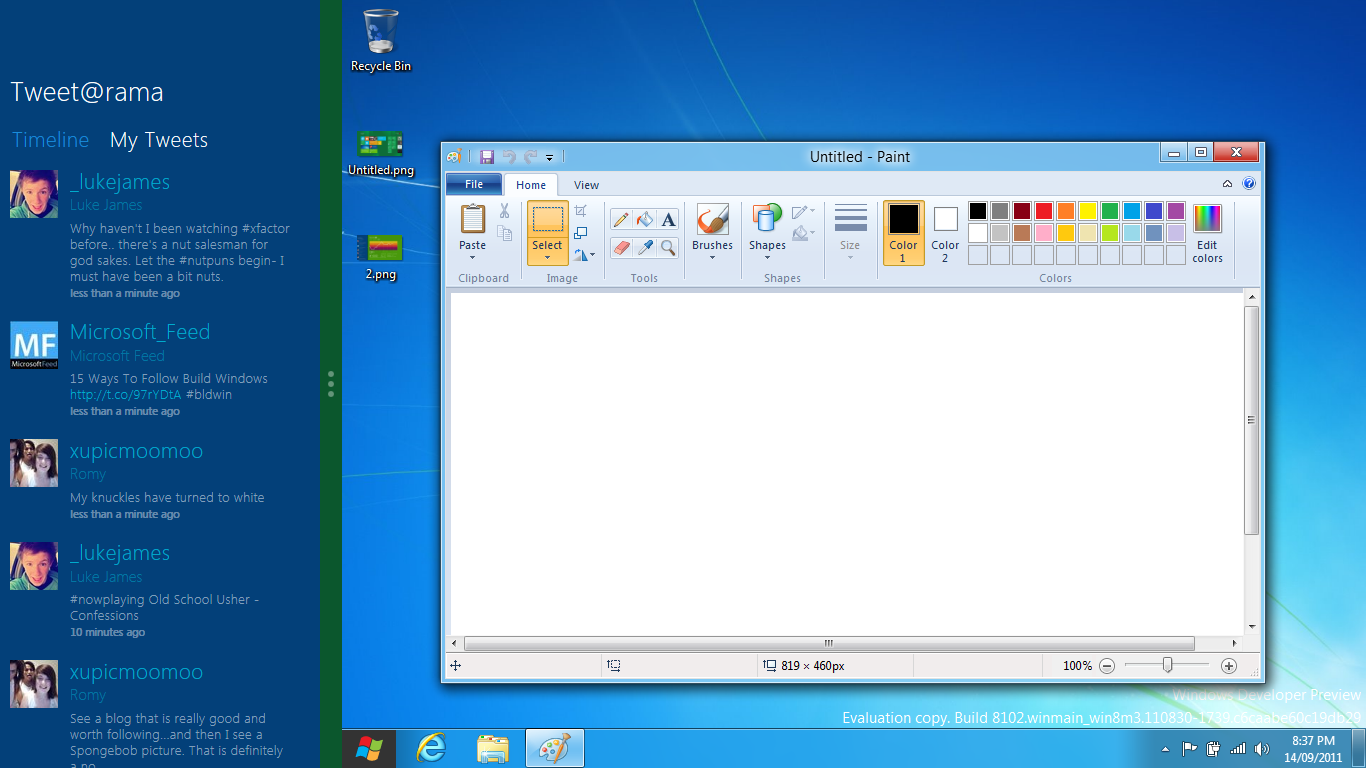 Classic Desktop With Pinned Metro App (Tweet@Rama)!
The message that Microsoft is sending in their Windows 8 demos is that if you buy a device running Windows 8, there will be no compromises. What they mean is that, while going forward developers will be strongly encouraged to write apps for the new Metro UI, Windows 8 will allow you to run nearly every app that currently works with Windows 7. One of the apps that comes installed on Windows 8 (and pre-pinned to the Start Screen) is the Desktop app, which displays the familiar desktop that you may recognise from Windows 7. This is where you can run all of your classic applications, change advanced system settings that aren't available in the new Metro Control Panel, manage the file system through an updated Windows Explorer and do everything else that Windows 7 could do. The only main difference is that when you click the Start button, you're returned to the Start Screen, not the Start Menu. This is causing controversy among power users who think the new Start Screen is just a simplistic shell, without looking at the bigger picture and realising that it's an entirely new platform. The other reason the Desktop is still useful is that, there are just some complicated applications such as Adobe Photoshop which work better (for now, Adobe may find a really great way to use Metro to improve their products, we never know) in a windowed environment with a keyboard and mouse. Keeping the desktop allows you to use your all in one PC as a tablet 80% of the time, but for that 20% of the time when you need a full computer, you've got that too, one app away!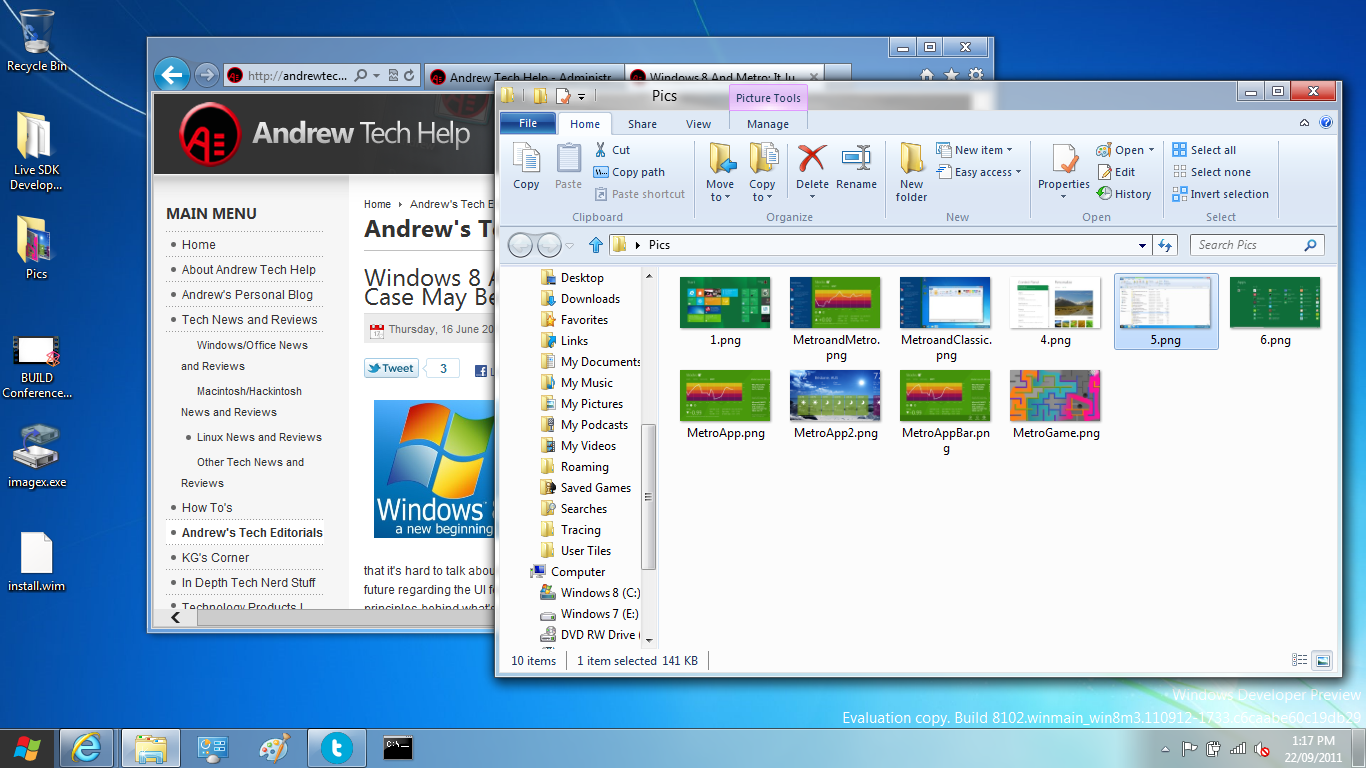 Classic Desktop (See It's All The Same, Although Windows Explorer Got A Makeover :D )
Charms
Windows 8 is going to contain 4 charms that new Metro apps can take advantage of. Charms are accessible from any Metro app by simply swiping in from the right of the screen with your finger on a touch screen OR pointing in the lower left corner of the screen where the Start Menu would have been with your mouse for non touch screen devices. Charms are essentially system wide services that any Metro app can use to better integrate with Windows 8. The 4 Charms available are Search, Share, Devices & Settings.
Search Charm
One of the key problems we have at the moment is finding things on the computer. At the moment, there is dozens of different places you need to search in order to find the information you need. Windows 7 helped consolidate searching files on your computer, programs on your computer and settings from the Control Panel (and also emails from Outlook 2010), but if you had data that was contained in an application or on an internet service, you were out of luck. To search those programs, you needed to load the program and search inside that or load your web browser, navigate to the website (such as Facebook) and search from there.
Windows 8 plans to make search a system wide feature (called the Search Charm) that any developer who writes new apps for the Metro UI can tap into (with very little code, more on that later). That means that you'll then be able to go to your Start screen and start typing and you'll be able to search Files, Apps & Settings as well as any other apps on your computer that have searchable content. So for example in the Windows 8 Developer Preview, there are a bunch of sample apps written by Microsoft interns and one of them is a Facebook app called Socialite. Windows 8 shows that app as one that can be searched and when I select it, it shows my my Facebook friends. This is something that neither Windows 7, nor the iPad can currently do and I personally believe this will change the way people use their devices. I expect Windows 8's Search Charm to become the primary way people find information using their computers, it just makes it so easy and can cover so much content! To activate the Search Charm, just bring up the Charms bar and select Search, then start typing. If you have something selected in an application, it will most likely automatically start searching those selected words for you.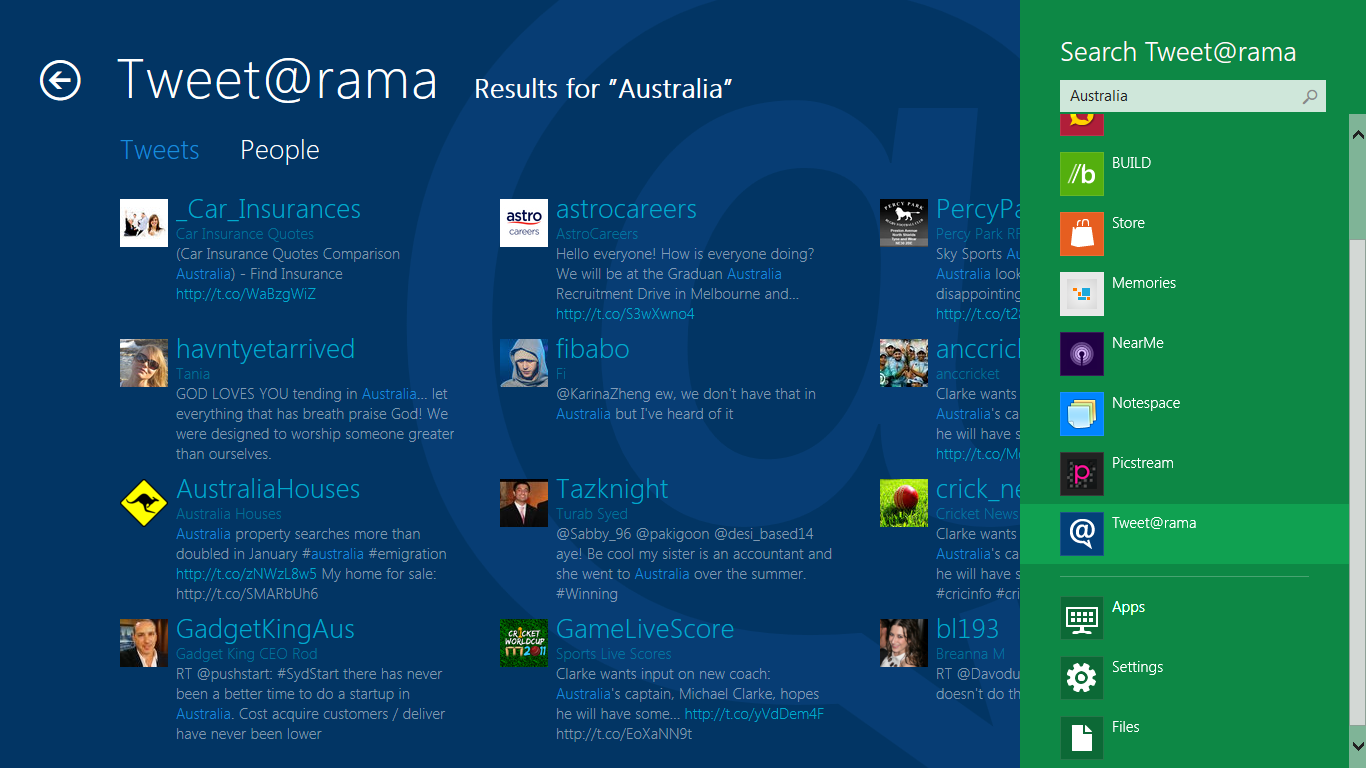 Searching Tweet@Rama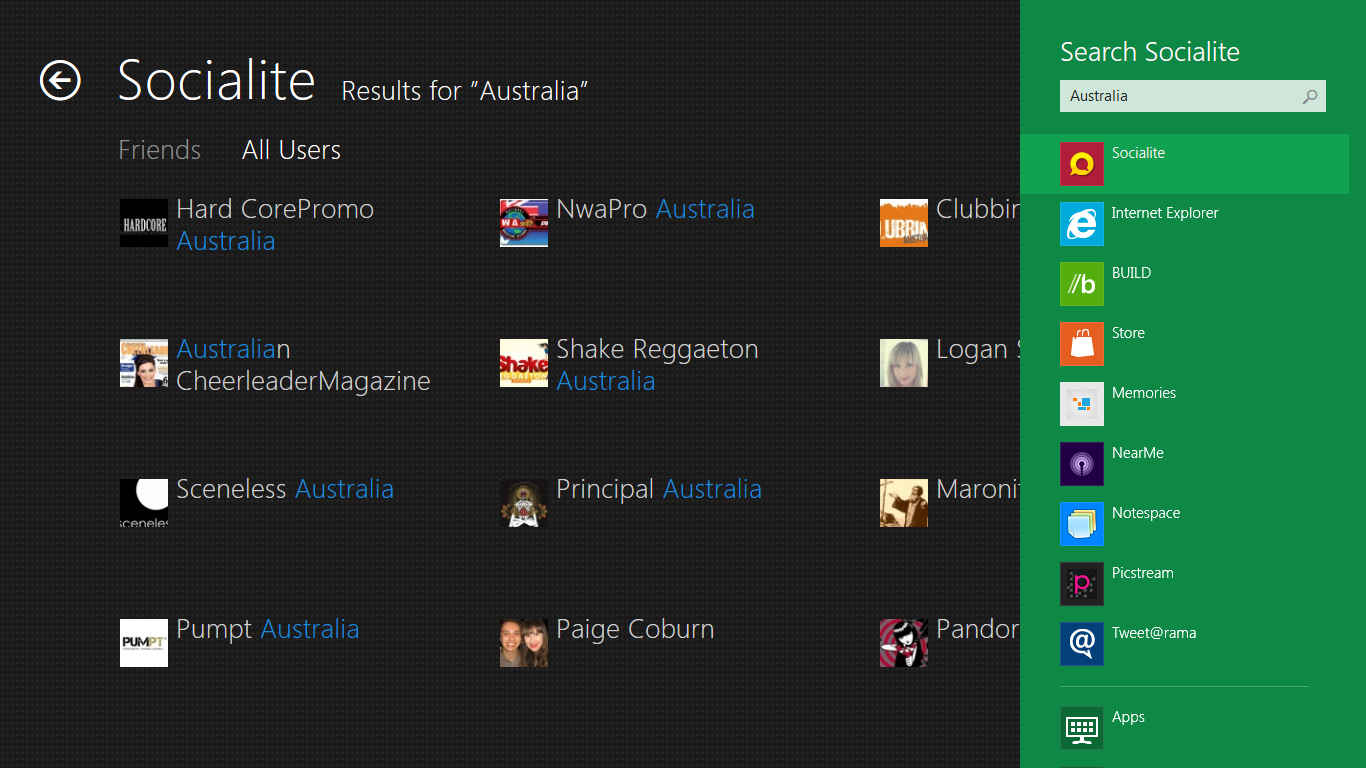 Searching Socialite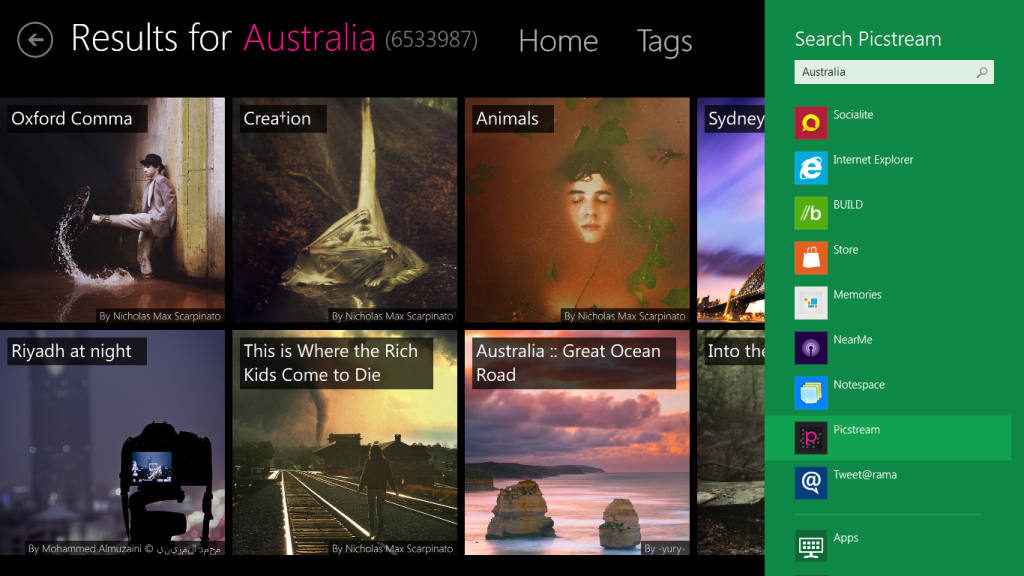 Searching Picstream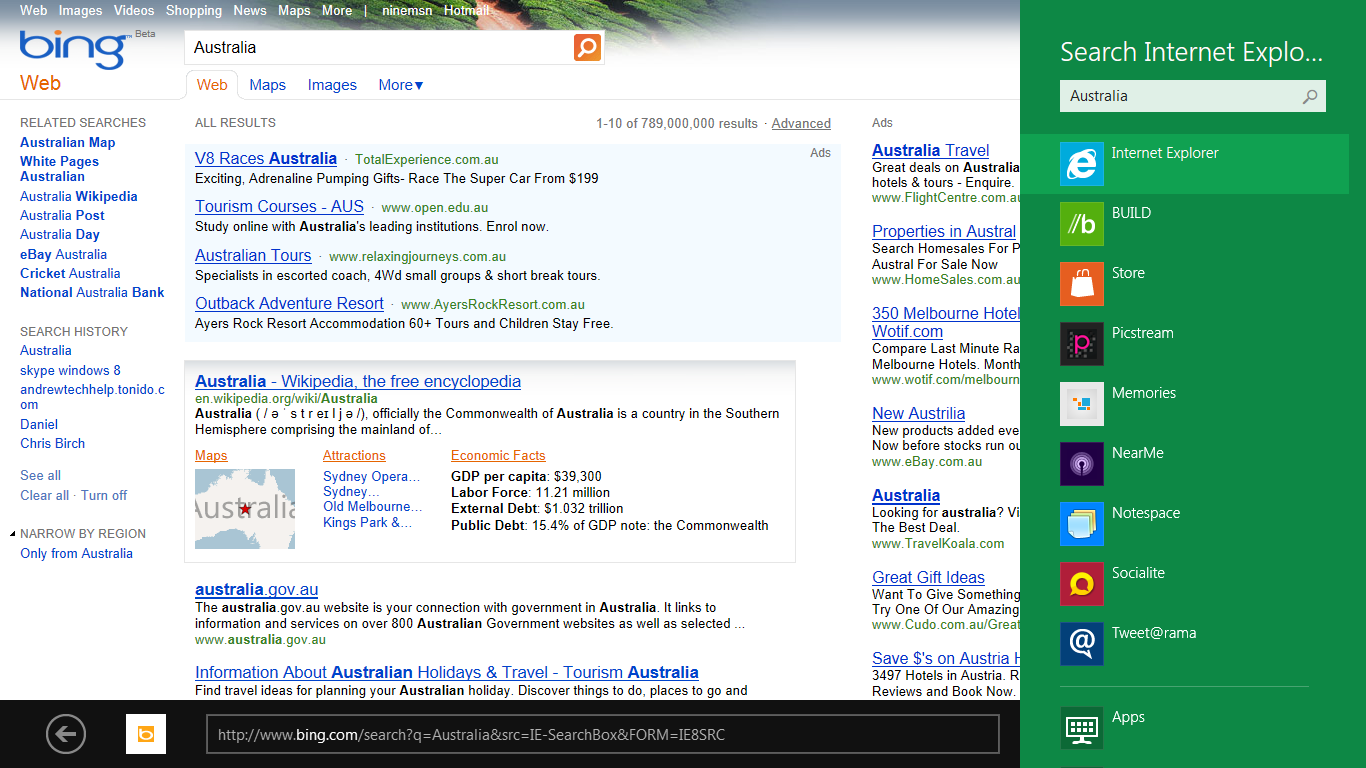 Searching Internet Explorer
Share Charm
While the iPad is very simple, you pick an app and it does a certain job, the thing people love about Windows is, you can usually share content fairly easily. Microsoft Word has a menu item you can pick which sends the current document to your email client as an attachment for sharing, you can import Photoshop pictures into a program such as Expression Blend (a tool used for creating UIs for Windows Phone & Windows 8 apps) and basically, applications can interact with each other, they're not siloed like they are on the iPad where they are not allowed to communicate with each other. There are times though on a PC, especially with websites, where it's not impossible, but it is difficult to get information out of one app and into another. An example is, if you have a photo on Facebook, and you want to put it into a Word Document. At the moment, you either need to copy & paste the picture into the Word Document or you need to save the photo to your hard drive and then insert it from there. Windows 8 plans to make this a lot easier with the Share Charm.
The Share Charm will allow new Metro UI apps to share content with Windows, essentially flagging themselves as available to share content they have with everyone else or as available to receive content you wish to share with it from anyone else (or possibly even both). So you may have a document editor loaded and you wish to insert that photo from Facebook. You choose Insert Picture and you're presented with a file picker which is coded to look just for photos. As well as being able to pick from any of the pictures on your drive or over the network (as you can today in Windows 7), your Facebook app can also appear in the list of available places to choose photos from. If you select it, it then shows you all of your albums on Facebook and you can browse through them and then pick out a photo and insert it straight into your document, no copy & paste required. Another example is if you want to share a website you're currently browsing in Internet Explorer with Facebook or Twitter. If you simply bring up the Charms bar and then select Share, it will show you a list of apps that are willing to accept a web link (could be an Email client, Facebook, Twitter etc). Simply pick one of those apps, and it will appear in the Sharing Sidebar. You can then add any additional required information that the app needs for it to share the item successfully (a description for Facebook & Twitter or a To address, subject and message for an email). You then hit Share and the sharing sidebar disappears and you can continue on with what you're doing. This feature essentially solves most people's sharing difficulties and does it in a simple and elegant way, the iPad just can't compete with this in it's present state. It also means that while apps are still isolated from each other, they can still share information with each other when appropriate and when the user asks for information to be shared. Just like using the Search Charm, implementing this requires little additional code and so there should be plenty of apps with full featured sharing on Windows 8. This should be one of the strongest selling points of Windows 8.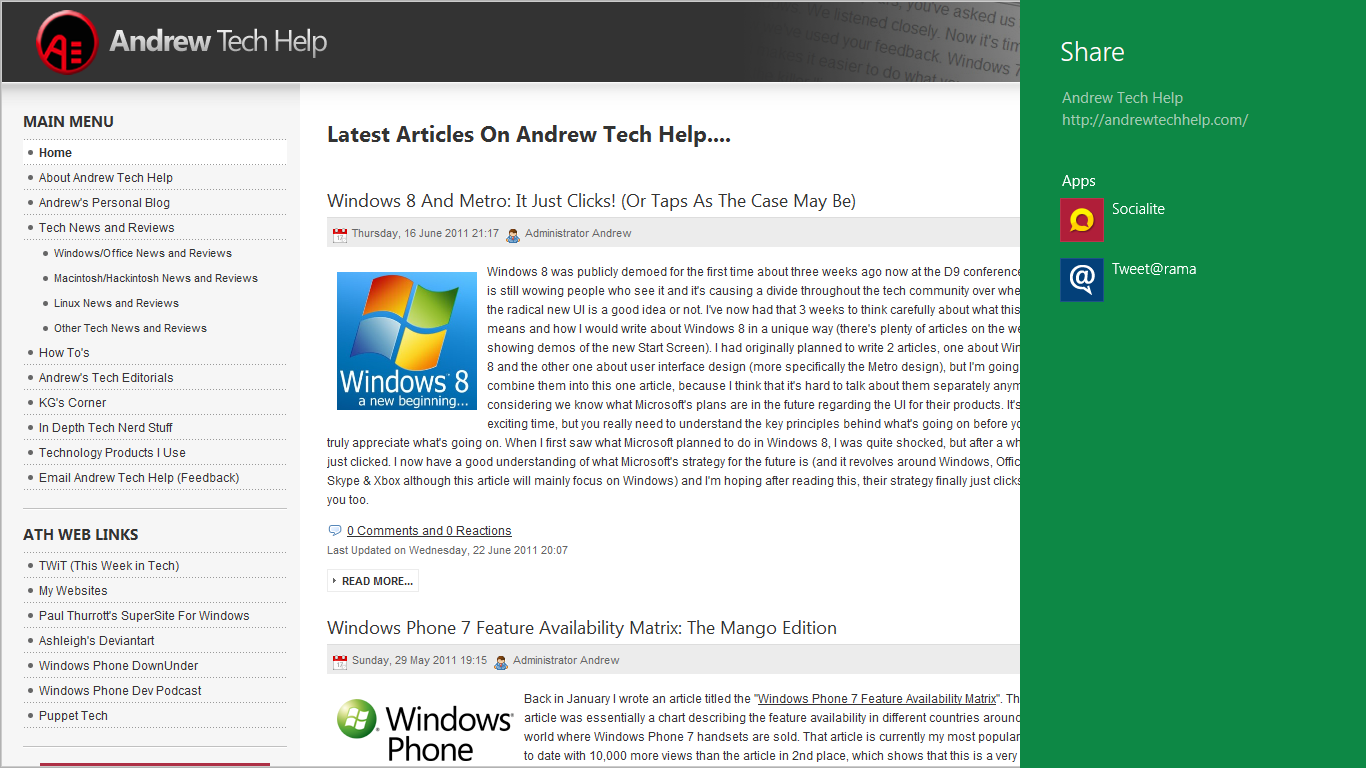 Share Charm's Available List Of Apps That Accept Shared Web Links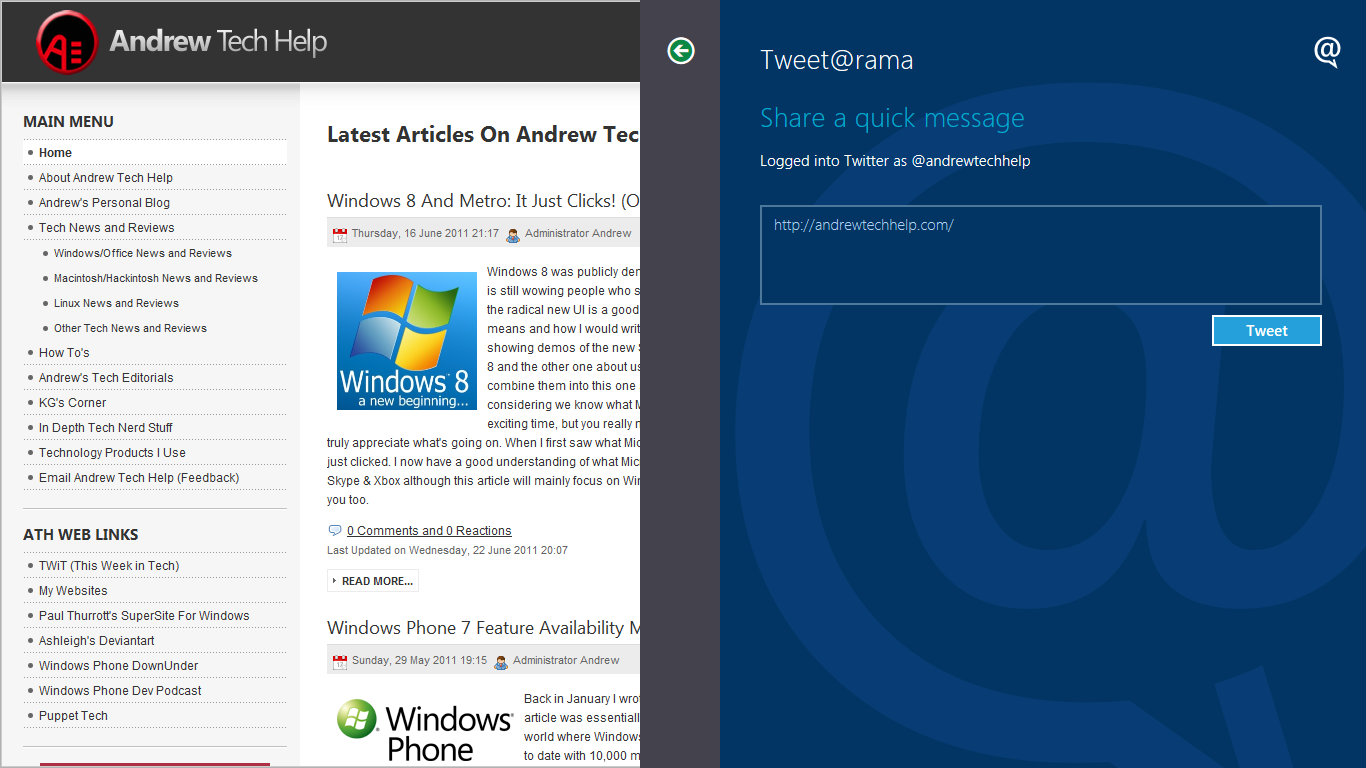 Sharing With Tweet@Rama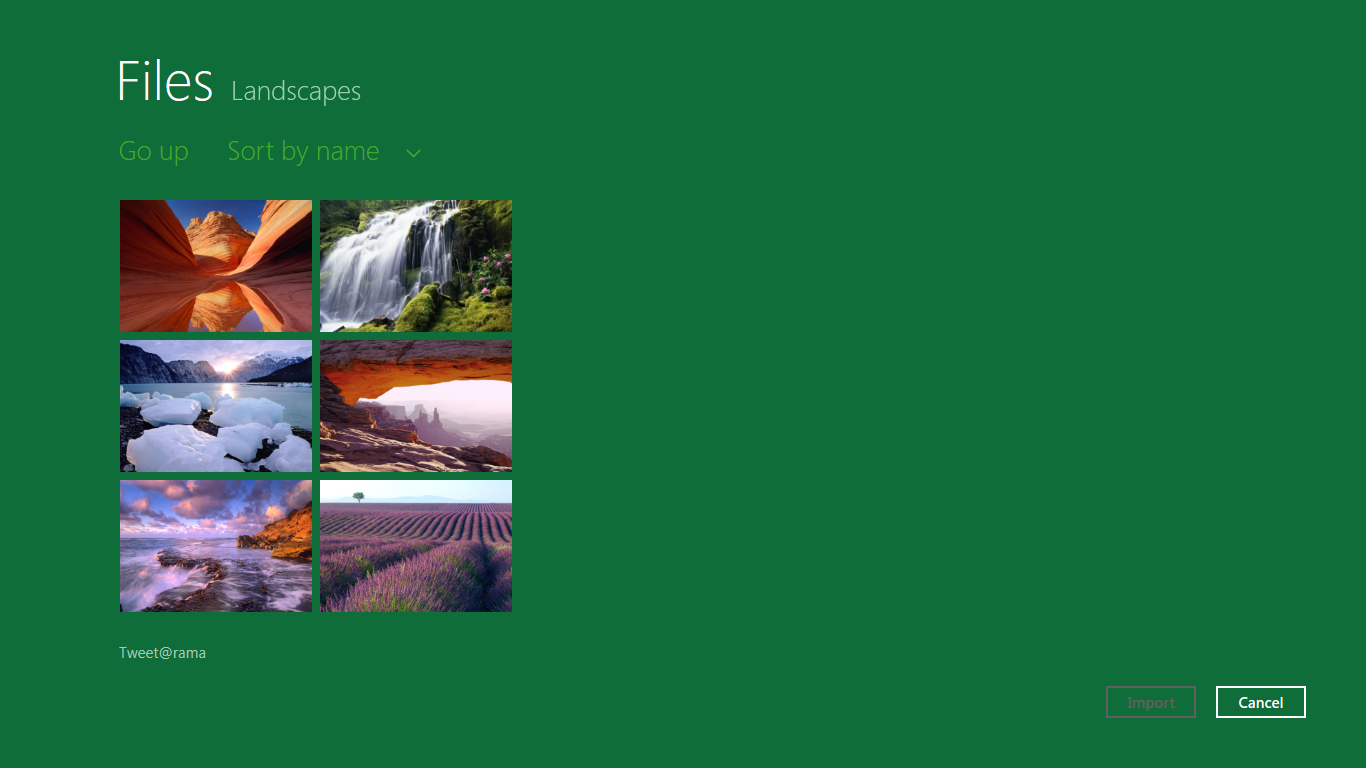 Metro File Picker  - Selecting Local Files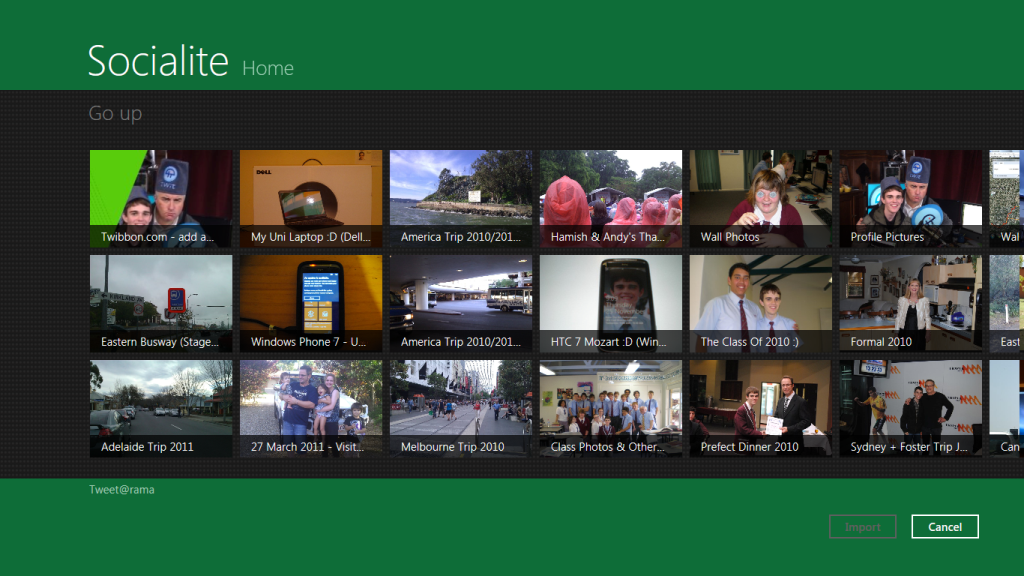 Tweet@Rama Browsing Though My Albums On Facebook Through The Socialite App In A Metro File Picker!
Devices Charm
The the third Charm I'm going to mention is the Devices Charm. I don't have as much to write about this Charm as Microsoft hasn't said as much about this. Currently, when you choose it, the option you're presented with is Project, which is designed for computers with multiple monitors (computers with dual graphic cards and laptops). I'm also going to guess that this will be the place where you will be able to connect to other computers and connect to DLNA connected equipment for listening to music and watching videos from your computer to your wireless speakers or HD telly. Like the others, you just bring up the Charms bar and then pick Devices.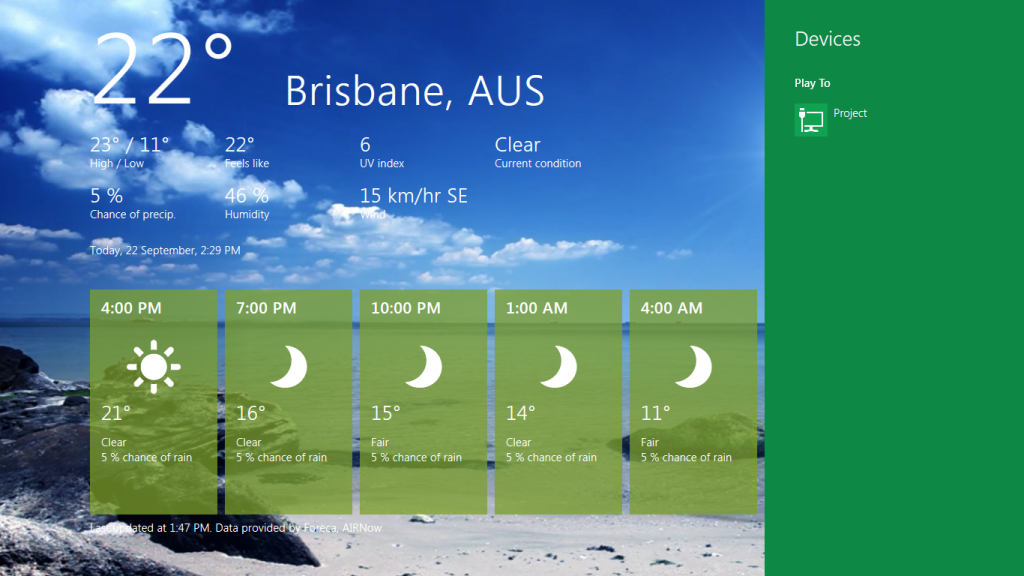 Devices Charm
Settings Charm
The final Charm is the Settings Charm. This Charm is designed to give you access to Power (Shut Down, Restart etc), Network, Screen Brightness, Volume, Notification & Language settings via a panel that slides out from the right. These replace most of the settings that were put in the Notification Area in previous versions of Windows (as well as Shut Down from the Start Menu). The rest of the space in that panel can be used for the currently running app to put it's own settings. This creates a uniform way for apps to create a settings screen, but putting them in the Settings Charm. A link the the Windows Control Panel is probably something that Microsoft should think about adding here too, they might do that by the time Windows 8 ships, you never know.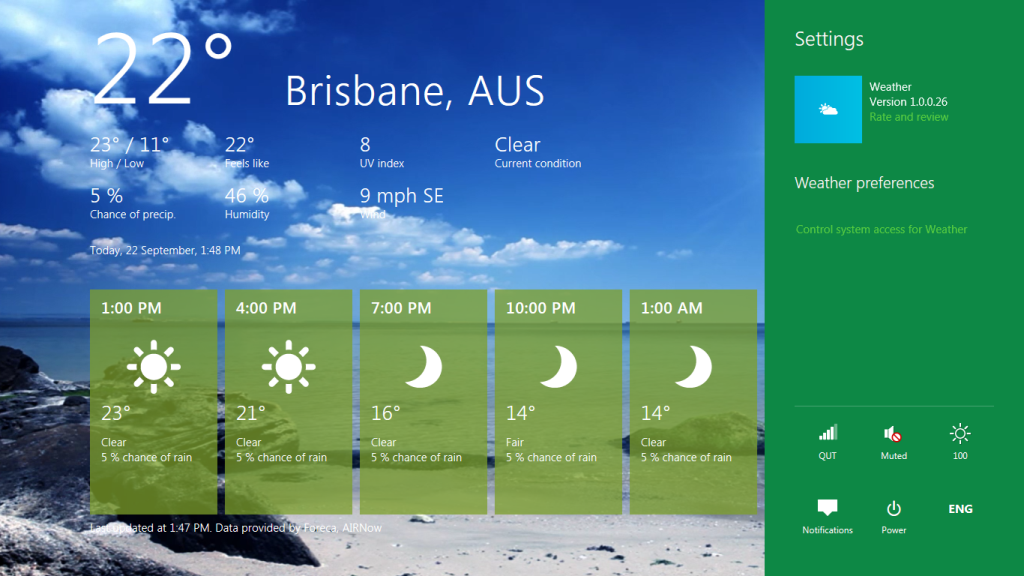 The Settings Charm - Shows Button For Weather Options & Also System Settings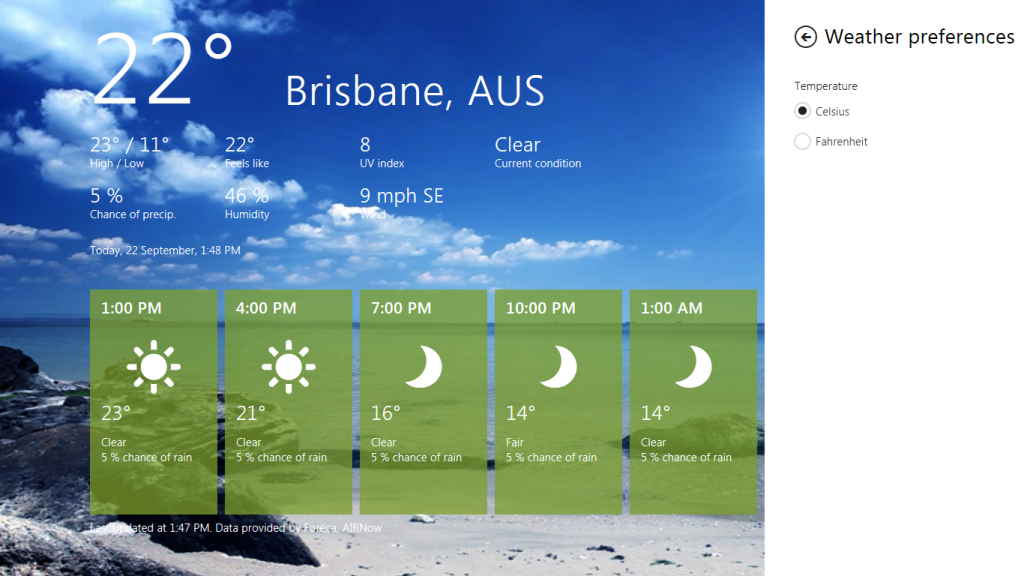 Weather App Settings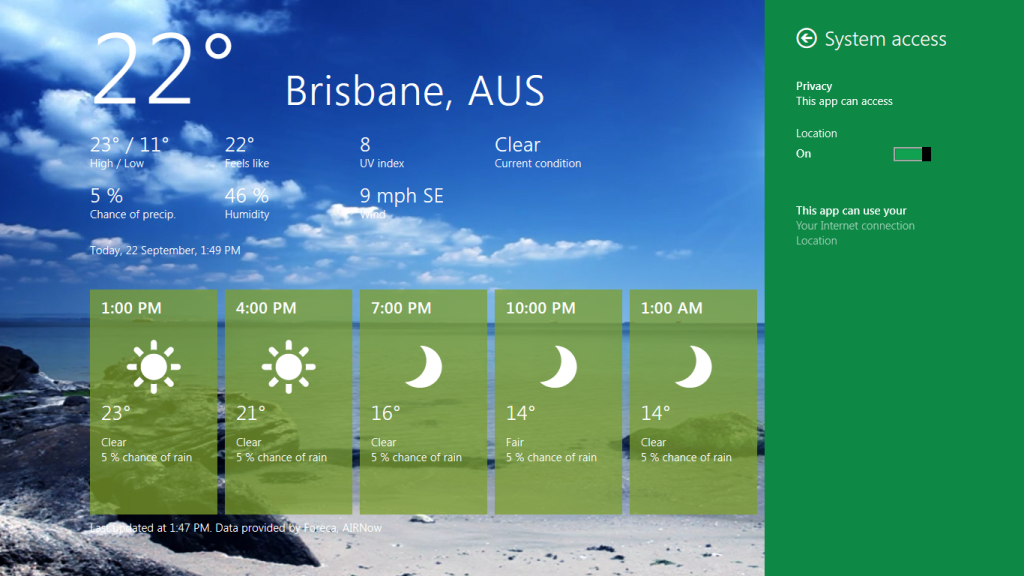 Weather App Privacy Settings
Security
So with all the new UI covered, it is time to cover a few under the hood topics. Firstly, Windows 8 comes with PRE-INSTALLED, PRE-ACTIVATED & FREE Anti-Virus & Anti-Spyware Software (along with a Firewall and Automatic Updates as previous versions included). It's essentially the next version of Microsoft Security Essentials (a free download for Windows 7, Windows Vista & Windows XP), that has been renamed back to Windows Defender (a program included in Windows Vista & 7 that provided Anti-Spyware but no Anti-Virus). This is probably going to cause some fights with Anti-Virus makers, but I think it's the right decision. These companies created a business model on fixing someone else's problem. Now that Microsoft is protecting themselves, it's not Microsoft's fault that this breaks the business models of these Anti-Virus companies. You can still install programs like Norton, Windows will simply deactivate Windows Defender so they don't conflict. Now Microsoft just needs to put the foot down and stop computer manufacturers from shipping Windows 8 PCs with trial versions of Anti-Virus programs with Defender deactivated.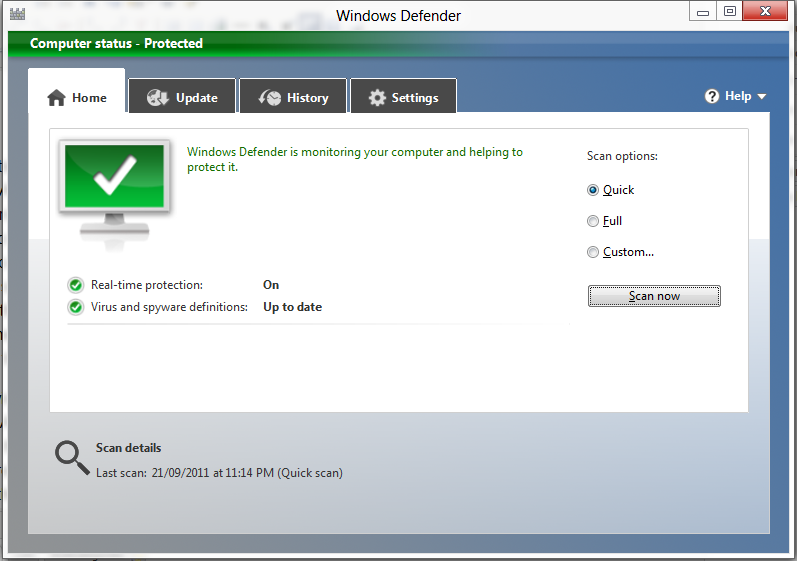 Windows Defender In Windows 8 Developer Preview (It's A Renamed Microsoft Security Essentials)
Secondly, the chance of computer viruses should drop to the same low level of risk that you have on an iPad, since the Metro version of Internet Explorer 10 will NOT allow plugins to run (no ActiveX), which should prevent a large slab of current attacks on Windows (and all the Adobe exploits). Another security measure that Microsoft is taking is that ALL new apps written for the Metro UI will have to be sold via the Store and all Metro apps in this store have to be approved by Microsoft. Finally, these apps will all be sandboxed, which means that they have to install themselves into their own personal folder and cannot make any changes to system files or settings and cannot tamper with any other apps. The only communication they will have with other apps will be via the Share Charm and this technically doesn't allow one app to communicate directly with another, they communicate via Windows 8's Share Charm without knowledge of each other. So if new users use Windows 8 as designed and use new Metro apps from the store and their computer comes without a trial anti-virus tampering with Windows Defender, they should be as safe as they are on an iPad. You'll never have a perfectly secure device, but you can get pretty close.
Platform & App Store
One of the most interesting parts of Windows 8 (after the new UI) is the new platform used for Metro styled apps called WinRT. Windows 8 will allow you to use all the traditional Microsoft programming languages such as Visual Basic, C#, C or C++ to power a XAML based UI to create Windows 8 apps. In addition to this though, you'll also be able to use HTML5, CSS & Javascript too, with identical capabilities to the before mentioned programming languages. What this means is that Microsoft has opened up the ability to write apps for it's operating system to everyone who can write modern web pages or hundreds of thousands of extra developers (millions possibly). The only additional things that developers will need to know is the additional API (Application Programming Interfaces) to activate special Windows 8 functions such as the Charms, disk storage etc.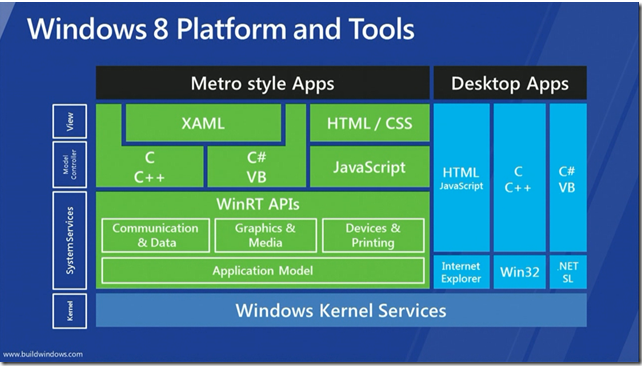 WinRT Platform Chart
The next thing this new Platform fixes is a problem known as Windows Rot. This is what happens after you use a Windows computer for a while and your applications eventually slow down the system with all the extra junk they put into your system folders, the registry and the 20 or so extra startup utilities they shove into your system. WinRT apps are confined into their own sandboxed store, which means that installing them will be as simple as selecting them from the Start Screen and pressing the Uninstall button. Windows will them remove the application's store and the application is gone! Finally, you never need to worry about closing apps, because if the app isn't on the screen, Windows will suspend it, so that it uses 0% CPU and only keeps the app in memory. If the system needs more memory, it automatically kills off the apps in memory (apps will save their data BEFORE they suspend, so no lose of data).
Talking about the Store (we're not sure what they're going to call it so I'll just call it what it says on the tile - Store), while it wasn't included in the Developer Preview (it just says coming soon when launched) there are a few things that can be said about it. Firstly Classic Desktop apps apparently will be listed in the store, although I expect the majority of apps in there to be Metro styled apps. The Store enables one other extra feature that is going to be great. Power Users like me re-install Windows about once per year so that we can start over again with a fresh copy of Windows. This is because Windows Rot (mentioned above) causes the system to slow down over time. The new platform should hopefully fix most of the causes of Windows Rot, but this final feature should kill it off completely. There is a setting you can pick from the Control Panel called Refresh My PC. This will allow you to reinstall Windows, while keeping all of your Files & Settings in tact (files won't be deleted from your drive and settings will resynced from the cloud, more about the cloud next). Your apps will be all deleted BUT, any Metro apps installed via the Store will automatically be reinstalled and their settings resynced! Your classic desktop applications won't be reinstalled, but the point is you'll be transitioning away from those and so will have only a few (if any)!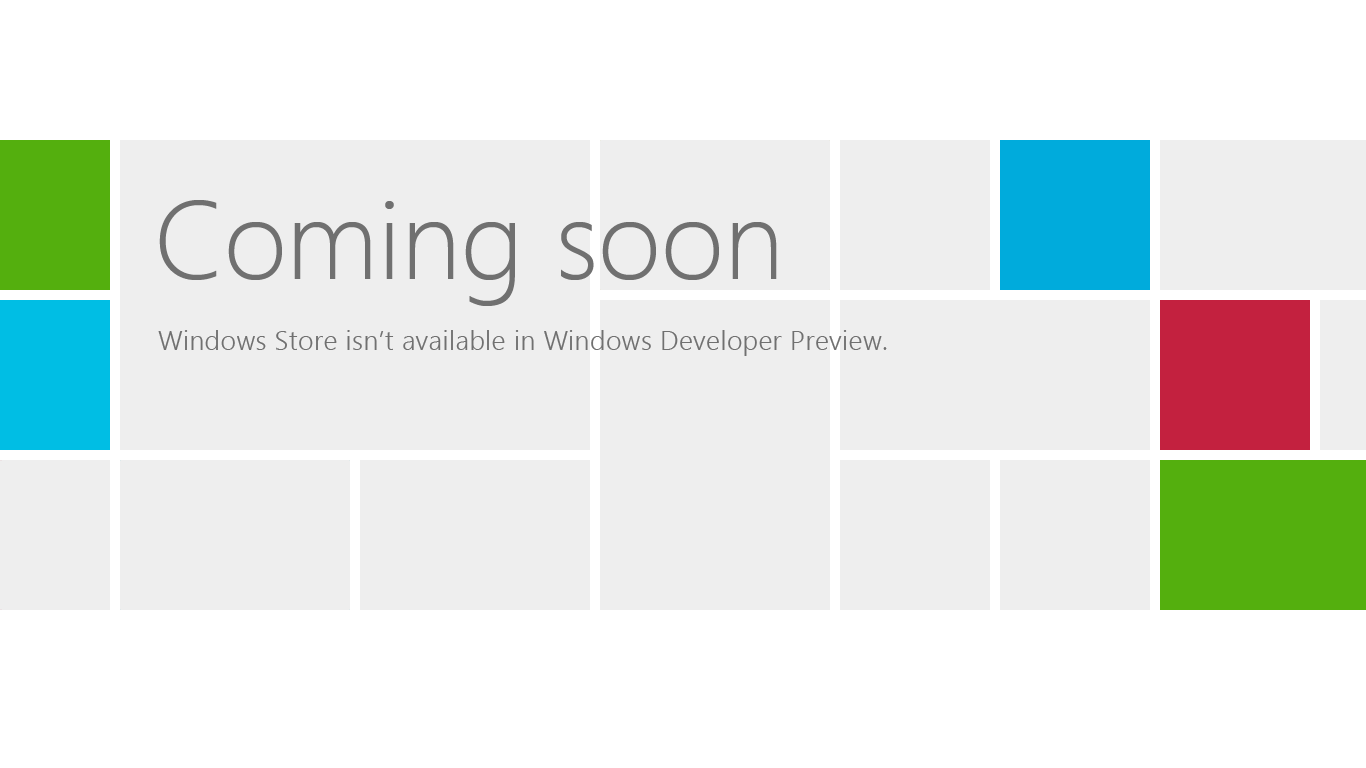 Windows Store - Coming Soon :D
Skydrive, Sync, Windows Live & Xbox Live
Finally, I'd like to mention about some of the cloud services that will be coming to Windows 8. Unfortunately most of these are NOT available in the Developer Preview, so I can't talk in too much detail about them, but let's say, from the demos that have been given, this is going to be amazing. Firstly, you link your user accounts with your Windows Live ID and then you are able to sync settings between some or all of the Windows 8 devices you own! Secondly, it appears that Xbox Live is going to be built in, which means that PC Games, Windows Phone games and Xbox 360 console games will all FINALLY come under one branding and will allow multiplayer with each other, regardless of platform. You should also be able to modify your Avatar & view your profile + achievements  from all 3 platforms too.
Windows Live & Skydrive are also going to be BIG parts of Windows 8. From the rumors that are floating around, Skydrive will be expanding to allow unlimited storage of documents & photos and there will be automatic syncing with Windows 8 as well as Mobile Apps for Windows Phone, iOS & Android. There is also going to be a new look Mail (which will support Exchange servers), Calendar, Photos, Messaging & People apps included with Windows 8 (all Metro styled obviously). It's also been said that the new Messaging app will allow phone calls & SMS messages and most likely, Skype video calls too! There's not much else I can say about this until I get my hands on it all, but I think this will compete strongly with Apple's iCloud.
Windows To Go
Finally, here's a feature I was not expecting and when it was announced I was skeptical it would even work, but after trying it, I'm still amazed what they've been able to achieve. Windows 8 can be installed onto a USB stick and taken around and booted from nearly any computer (as long as the CPU supports the version of Windows, eg a 32bit CPU won't support 64bit Windows To Go, but most modern CPUs are 64bit now). It's very cool, it basically means you can carry around your entire personal computer on a USB stick or USB hard drive, plug it into a computer, boot up and continue using it as if it were your own machine! I never thought they'd get Windows down to a point where it would become portable like this, so this is a REAL break through!
Conclusion
There's a lot of controversy surrounding Windows 8, because it's such a radical change. Microsoft admit that this is their riskiest product bet yet, but at the same time, developers are excited and once this finally is released onto some cheap but powerful tablet computers next year, they've got a real chance of matching and even bettering the iPad! This really is Windows Reimagined and I'm really excited about the changes coming. I hope to write more about the Windows Live & Cloud integration, the Store & Xbox Live (+ all the other features currently missing from this Developer Preview) in the future as they're revealed to the public when Windows 8 hits beta in the next 3 to 4 months or so! At least Microsoft has been able to prove to the world that they're prepared to try radical ideas and that they really do have a solid vision of transforming Windows into a product which will fit the the 21st century! Go Microsoft, I'm Excited!