Today has been big in the Microsoft world. Microsoft finally unveiled their latest version of their IM client - Windows Live Messenger 2010. The software isn't available to download in beta form yet, but they've posted screenshots and videos of what will be available when it's released. The rumors that have come from allegedly leaked documents which state the timeline say that we'll start to get access to the web services from May 23 and a beta of the Windows Live Essentials June followed by final versions of everything in August. That's the rumors anyway. Hopefully we'll see stuff before these dates, because Windows Live 4 and especially Messenger 2010 look very exciting. Microsoft is turning Windows Live into the only place you need to go to find your social online services. Whether you want to IM you friends, send an e-mail, check what's happening on Facebook, Twitter or Flickr or just see what your friends have to say about websites, Microsoft wants you to think of Windows Live and Windows Live Messenger 2010 brings that concept into practice. Just a reminder though, if you're still Running Windows XP as your operating system, then you cannot upgrade to Messenger 2010, it is a Windows Vista and 7 only product. You'll be limited to the web services of Windows Live (or Messenger 2009 which will continue to work) if you continue to use XP.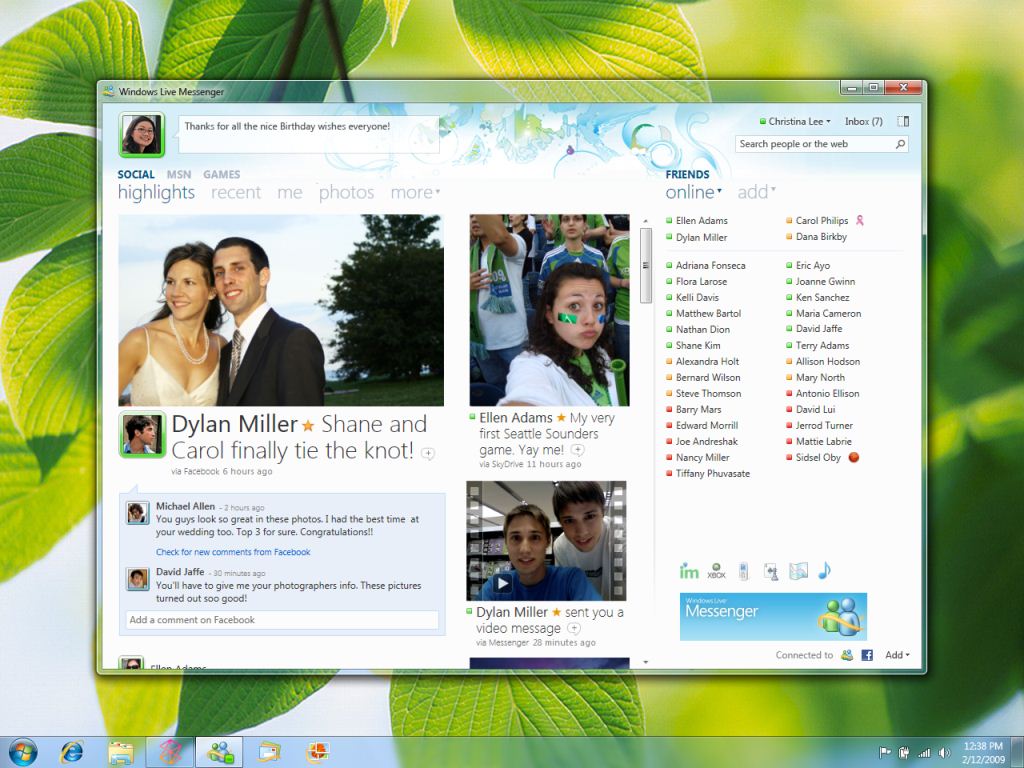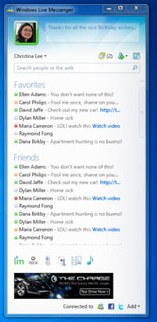 This is what Messenger 2010 will look like. As you can see, it's no longer simply a list of contacts - it's a full social dashboard, integrating different services including Facebook, Twitter, YouTube, Flickr and Windows Live. If you wish to turn it back into a simple list of contacts, you can do that as you can see above, but it's more interesting if you leave the dashboard enabled. This dashboard not only allows you to see what's been happening in your social networks, but also allows you to interact with the updates. For example you can comment on a Facebook status or photo. Video is also a big part of Messenger 2010. Not only has video been improved in the conversation window (more on that in a sec), but you can now leave video messages of 30 seconds for offline contacts for them to view when they next come online. Also coming to Messenger 2010 (but not sure how or when it will be implemented) will be ability to chat to your Facebook Chat contacts directly from Messenger. The personal message has been replaced with a status box which allows you to attach pictures and links to it instead of just simple text, and it will also sync that status across Twitter and Facebook too.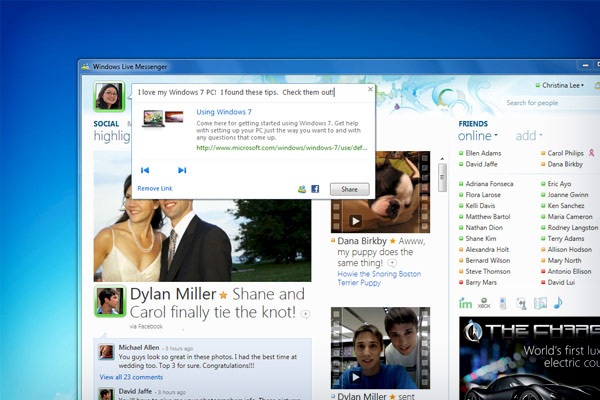 The conversation window in Messenger 2010 has had some revamps too. Firstly, you'll notice that the toolbar at the top of the screen is gone and the commands have been added to those which appear below the text box. So now you don't have to look at two different toolbars if you say wanted to add an emoticon and a picture. The emoticon library has been updated for the first time in nearly 10 years and a load of new emoticons are also now included by default. A popular feature from the Messenger Plus Addon has finally been added to Messenger 2010 - Tabbed Chat. Replacing the toolbar at the top is now tabs for different conversations you may have going at the same time.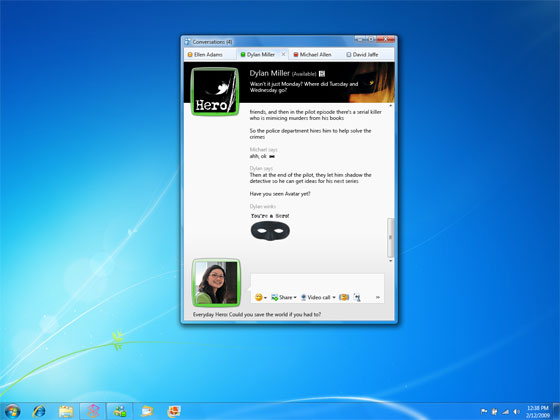 As mentioned before, picture and video have been a big focus for Messenger 2010, because the media sharing capabilities have been updated. So now instead of only being able to share pictures with contacts, you can now share YouTube videos too. If you type a YouTube link into a conversation, a YouTube box will appear in the conversation area so you can both watch the video from within Messenger. The picture sharing has also improved, instead of the picture squashing up and sometimes covering the text conversation, it now moves the text to the left and uses the majority of the Window to share the pictures in high quality detail.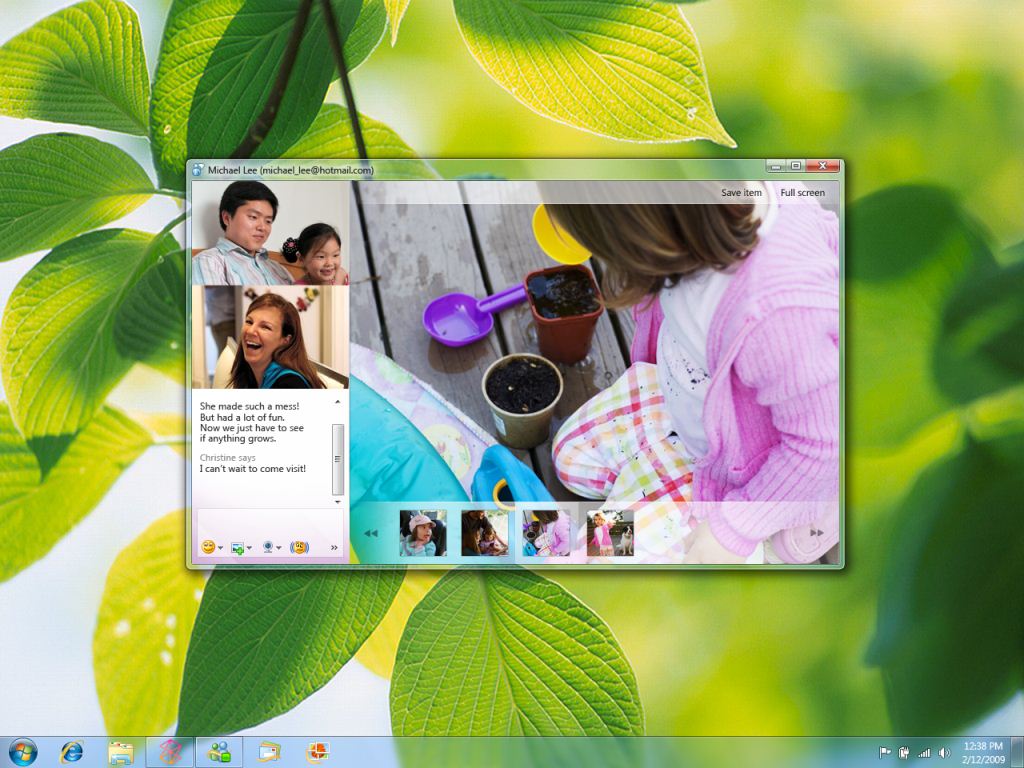 You can see on the left of that picture that what appear to be display pictures are bigger than normal. Well don't be fooled, because these aren't display pictures, it's actually someone sharing photos while in the middle of a video chat. Messenger 2010 now supports HD video chats and you can share stuff in the middle of video chats. They also now longer appear in tiny little windows, video can now take up the whole window. You can even go chat in full screen like you can in Skype.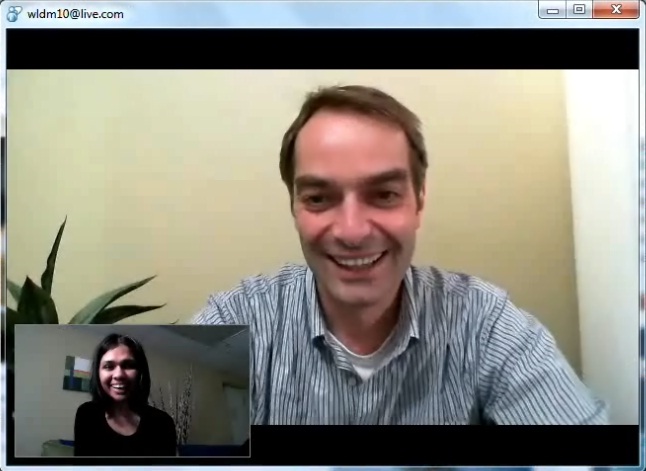 Messenger 2010 (and Windows Live Wave 4 more broadly) is all about privacy. There are some really good privacy settings available and the key part of it lies with how you categorise people. You can appear online or offline to certain categories depending on whether you want to talk to them (really great for making those annoying people disappear for a while), and the favourites category now actually does something. The Favourites category will always move updates from people in that category to the top, so you never miss something important from your favourite people. You can also look at a list of everything a specific person can see about you, to make sure you set the privacy settings correctly.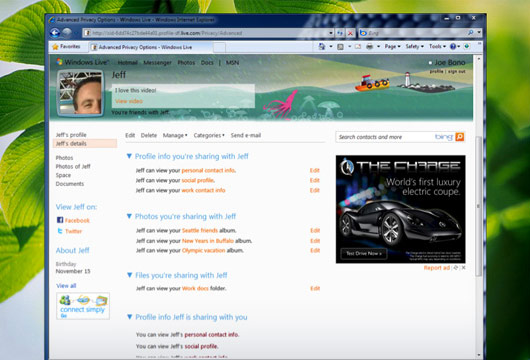 Messenger 2010 (and again Windows Live Wave 4 in general) are all about being able to access all this social content now available through Windows Live Messenger on your computer, available anywhere in the world. If you are mobile, either on an iPhone, Windows Phone, Blackberry, Nokia or any other phone which can browse the internet, you will be able to access Windows Live Messenger. You'll also be able to access Windows Live Messenger from inside Hotmail and also through a brand new Web Messenger (no need for Ebuddy anymore folks).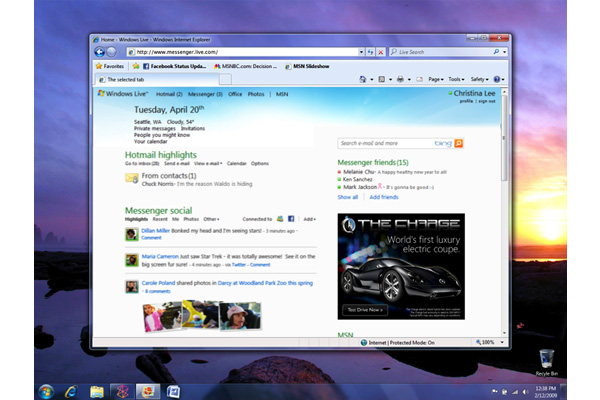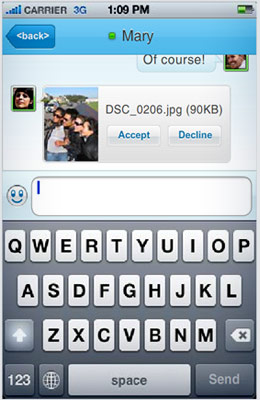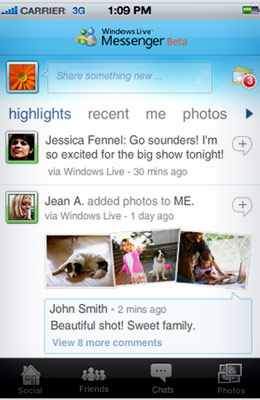 Lastly, Messenger 2010 just integrates better with everything. It integrates with Windows 7 features such as Jump Lists and Taskbar Thumbnails. Messenger also integrates with Bing, so certain words in your conversation will be underlined and if you click them, they'll open up a window with Bing where you can add search results, pictures and videos from bing related to that word, directly into the conversation. The new Messenger Companion also lets you see what your friends have to say about sites on the internet. If you visit a site on the internet using Internet Explorer, you'll be able to click to share and comment on a link as well as see if your friends commented on that particular site.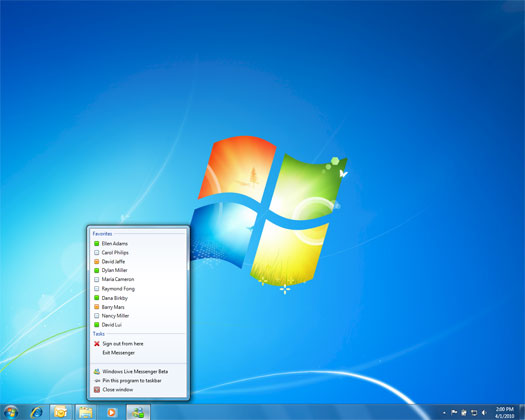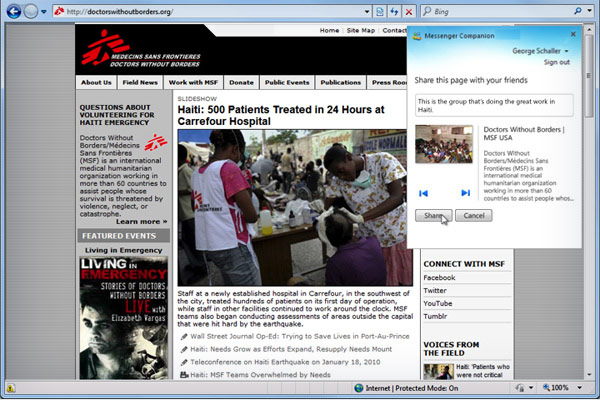 So that's what we currently know about Messenger 2010. When there's either a leaked copy or the beta is released I'll download it, install it and check it out. There's also plenty more to be announced about the rest of the Windows Live - Hotmail will also have lots of changes to talk about, and that's why there will be a website dedicated to it too. Currently www.windowslivepreview.com and www.messengerpreview.com work, but coming soon is www.hotmailpreview.com. So keep checking those websites and of course Andrew Tech Help for all your Windows Live Wave 4 details.