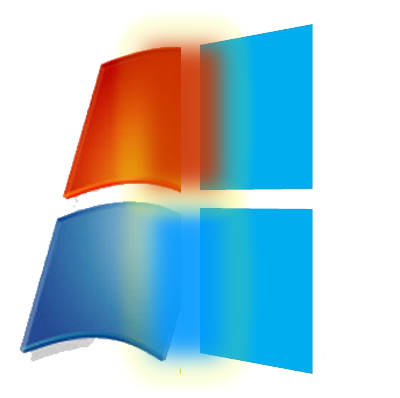 2012 promises to be an extremely exciting year for Microsoft, with the company essentially updating every single major product they make, as well as integrating them all with each other in a way we've not seen before. I plan to write a lot more about this in the coming months, but in this article I'm going to write about something that's already starting to change, even before the new products have been released: Logos! This article won't be too text heavy, instead I'll do some brief explanations and them just show you all the logos here so you can see them all for yourselves!
Earlier this year, Microsoft revealed the new Windows logo that would ship with the Windows 8 operating system, due for release on October 26th this year. There was a mixed reaction to this logo, some loved it and others disliked the logo for many different reasons. Some disliked it because it was a big move away from the Windows logo that most people have grown to know: the flag with the Red, Green, Yellow & Blue panels on it. Others disliked it because it looked very flat (very 2D) and was a single blue colour. It was very different from any logo that Microsoft had used in the past.
I think that SOME of the people who initially disliked that logo will come around to like it, when it is seen in context with all the other new product logos that Microsoft has revealed at various events over the last 3 months. It's obvious now that Microsoft is going for a very flat look on their logos, with the use of a single colour and no gradients. This fits in perfectly with the new Metro, Windows 8, Modern style UI and when viewed as part of a bigger redesign picture, it makes complete sense!
So here are all the new logos for the majority of the major products that they make. There are others in here that haven't changed yet (including Microsoft Dynamics), but these products are still waiting for redesigns, that may possibly happen in the next 12 months or so (it's not such a priority to redesign these products yet as they're not really consumer facing).
Updated 23/08/12 to include new Microsoft corporate logo.
Updated 22/12/12 to include Microsoft Dynamics logos.
Updated 14/01/13 to include MSN logos.
Old Logo
New Logo
Notes

This logo is very interesting and in hindsight, makes complete sense: It's the logo they've been using on Microsoft Stores & at Microsoft Store online for years!

This will also be the logo for Windows RT too, although obviously the RT version of the logo won't have the 8 on it. It's still unclear if Microsoft will include the letters 'RT' on the Windows RT logo or if they'll simply brand it as 'Windows'.

Windows Server gets the same re-branding that the client Windows software is getting (mainly for consistency)

With Windows Phone 8 actually being very very similar to Windows in both UI design and underlying core, it makes sense to brand Windows Phone under the same logo as Windows 8/RT.

Again, it simply makes sense that if Microsoft are branding all their other Windows products with a new logo that Windows Azure gets that logo too!

N/A

Microsoft is phasing out the Windows Live brand. Microsoft has slowly been culling the various Windows Live services that are available and has essentially consolidated them down into 2 brands: Outlook & SkyDrive.

The new Outlook brand will slowly replace the old Hotmail brand that Microsoft has used for their webmail service since they purchased Hotmail in 1997. So while you will probably see Hotmail stick around for a while, eventually it will be replaced entirely by the Outlook brand (although you won't be forced to change your email address from an @hotmail.com address unless you want to).

N/A

I'm still uncertain about this one. I do not think that Microsoft will continue to brand Messenger as a separate product in the future. I believe that they simply will consider messaging a service that is a part of Outlook, Windows Phone, Xbox & Windows 8/RT.

Updated Microsoft has indeed decided to phase out the Messenger brand (and in fact the whole product actually). As predicted, Messenging will be a service that's included in Outlook, Windows Phone, Xbox & Windows 8/RT, but it will be branded as Skype.

The SkyDrive brand is staying (but dropping the Windows Live prefix) and is actually expanding from simply being a cloud storage service to becoming the central place to store, sync and share files in Windows 8 & Office 2013. SkyDrive along with Outlook will become the two big online consumer services that integrate into all of Microsoft's new products!

Interestingly, Microsoft is dropping the "Windows" prefix from the Internet Explorer branding. This is probably because Internet Explorer is no longer just on Windows, but also on Windows Phone & is coming soon to the Xbox.

The Office brand gets a new flatter look, but I actually wonder about the long term plans for the 'Office' name. I actually think that as Microsoft moves to turn Office into a subscription service, the 'Office 365' brand (see below) will merge with this brand and replace it (because less and less people will buy Office outside a subscription).

This is what I think Microsoft will eventually re-brand 'Office' to. Office 365 currently refers to a subscription service that businesses get cloud hosted Exchange, SharePoint and Lync services from. From next year though, it will expand to include the Office 2013 subscriptions that range from Home plans to full Enterprise plans. I'd keep an eye on this brand!

Bing is expanding from simply being Microsoft's Google competitor on the web (branded as a decision engine) to becoming Microsoft's search brand for everything. It's heavily integrated into Windows Phone (it has its own hardware button), it powers the News, Travel, Sports, Weather & Maps apps in Windows 8 and it powers the content searches on the Xbox.

Xbox's brand has been expanding over the last couple of years from being a brand for video games into an entire entertainment solution. With Xbox now taking over the Music & Video products that were branded under Zune, it now becomes Microsoft's one stop place for games, TV, music & movies!

N/A

The Zune brand is being phased out this year and should disappear completely by October I think. The replacement will be Xbox Music & Xbox Video branding instead.

Not many changes here really. Visual Studio will continue to be the brand behind the excellent developer tools used to build apps for Microsoft products & the web.

The Skype brand is one that Microsoft isn't modifying very much (and for good reason: it's a successful and well known brand). The only real difference is that they've flattened it and removed the gradient so that it essentially looks the same as the old one that everyone knows, but also looks in place when on a Microsoft product with the new Modern UI.

N/A

This is a new product (hence the lack of old logo). The Microsoft Surface brand currently refers to 2 tablets that will be released later this year (or early next year for the Pro model). This brand could expand to other devices over the next few years if it is successful.

Not many changes here really. Microsoft Dynamics is just updating their branding to be consistent with the rest of Microsoft!

This new MSN logo currently only appears on the version of MSN that is built for IE10 on Windows 8 (t.msn.com), but it's just a flatter version of the MSN logo that Microsoft has used for many years now.
If anyone else finds any new Microsoft logos that aren't listed here, then please let me know! I'm excited for the new few months and I believe that Microsoft's complete re-branding as well as the re-imagining of all their products will set them up for a healthy and profitable future!